Gas boilers are one of life's essentials and unfortunately even the most trusted and reliable model will eventually require replacing.
Should you be starting to worry if your boiler needs replacing, you've come to the right place!
In this guide, we will discuss the entire process of boiler installation; from when a boiler should be replaced, through to choosing the right boiler and obtaining quotes, to ultimately getting the boiler fitted.
Wondering how much a new boiler costs? Check out our guide on options available if you need a new boiler but can't afford it, as well as boilers on finance and government boiler grants here.
See local Energy Guide approved installers we recommend for your job:
Gas Boiler Replacement Guide UK
When is a New Gas Boiler Needed?
Often, a replacement boiler is considered after a household has suffered from breakdowns or intermittent issues, however, there are other signs that a modern boiler installation should be considered as follows:
The warranty has expired, and repairs are costing a small fortune.
Quotes to repair the current boiler are very high, resulting in a review of whether a replacement would be more cost-effective.
Parts can no longer be sourced for a current boiler.
The energy efficiency of the current boiler is decreasing. The bill payer may notice a slight increase in energy usage as the boiler has aged and lost some efficiency.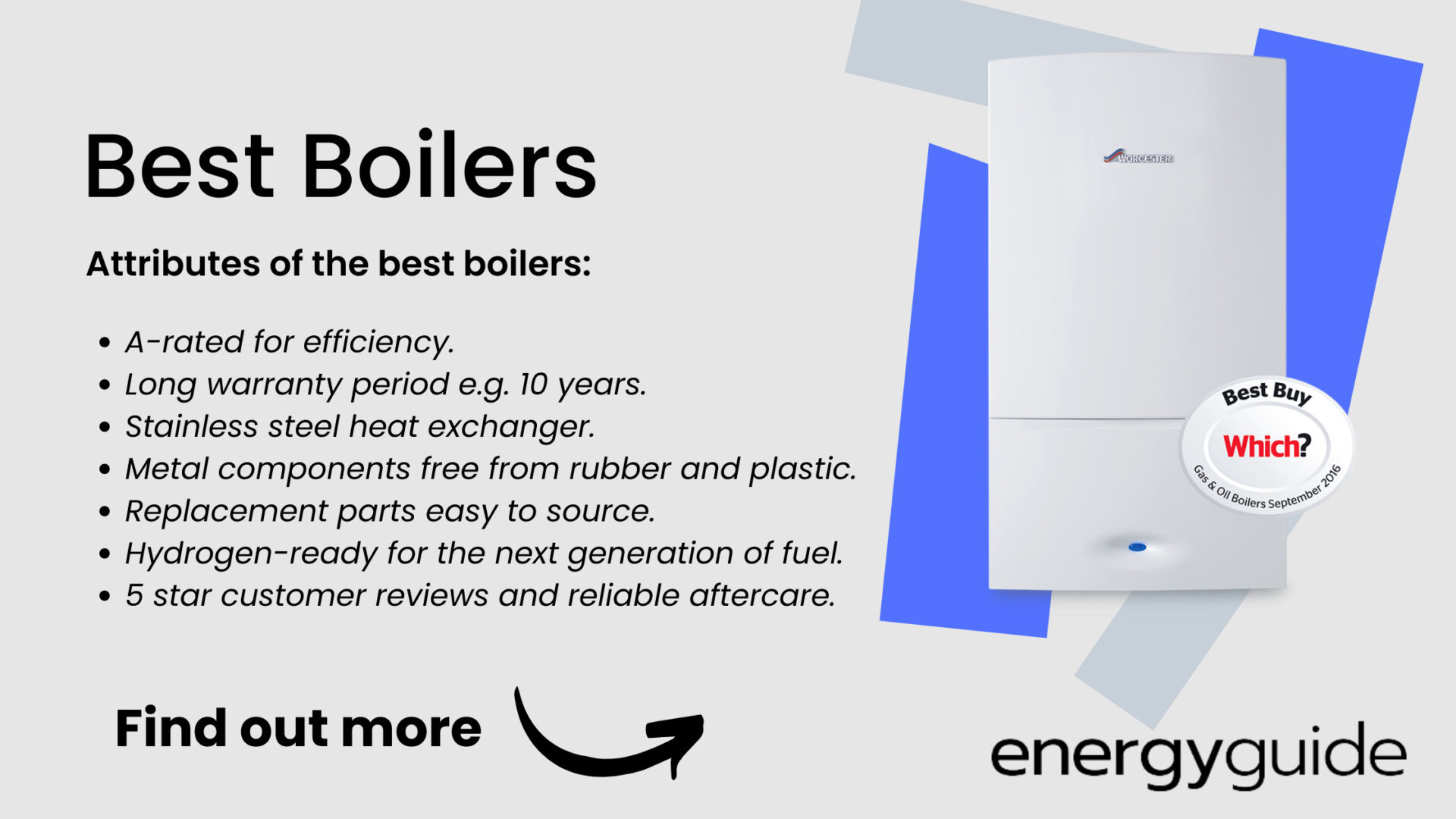 If your boiler has had a breakdown recently, has been costing you a fortune in small repairs or is simply on its last legs, you may have been considering replacing it, with a modern one.
Wondering which boiler manufacturers performed best? Check out our best boiler brands guide for the full rundown.
If you are trying to determine who the best boiler installation company is, check out our reviews of some of the most popular gas boiler replacement companies:
iHeat Review.
Eon Review.
Heatable Review.
What is the Average Cost of a New Gas Boiler Replacement?
Unfortunately, there is not a set cost for a new boiler installation as there are a number of variables that will have an impact on the overall cost as follows:
The type of boiler required
The fuel type of the boiler chosen
The boiler size or the power output of the model
Whether or not a like for like boiler is being installed – If not, there could be pipework changes, relocation of elements of the system or the removal or installation of water tanks for example
The make and model of the new installation
The installation costs by the engineer – costs are sometimes driven by where in the country the property is located, or the size of the company due to install the new boiler
If any additional services are selected such as full heating chemical flushes or extended warranties
In order to obtain a tailored price for a boiler installation suitable for your property and household requirements, please request a quote either online or via a reputable heating engineer.
Did you know the efficiency of your boiler can impact the amount of energy it uses and ultimately impact your heating bill costs? Check out our guide to the best condensing boilers if you are interested to find out more.
You may also find our review of the best eco-friendly boilers of interest.
Check out our boiler brand price guides and comparisons:
How do I Choose Which Boiler is Right for my Property?
In order to select the most appropriate boiler for your property and household requirements, there will be a couple of important factors to consider such as:
Which type of boiler is needed?
What size boiler is required?
Which boiler make and model is preferred?
Let's take each question in turn:
See local Energy Guide approved installers we recommend for your job:
Boiler type
The first thing to establish would be the type of boiler that is required.
There is a range of different types of boilers available, however often the property type as well as household usage will determine the type required. As discussed, there may be additional costs involved with a switch between boiler types.
The most common types of boilers are as follows:
Combination boilers – Also commonly referred to as combi-boilers, the unit provides both heating and hot water, directly from the mains and therefore there isn't the need for a water tank. Combi-boilers traditionally are most suited to small and medium-sized properties with a limited number of bathrooms, however, there are some very powerful combis made these days therefore it is worth considering even within a moderate-sized property. The main factor when establishing if a combi-boiler would be suitable for a property is to check the water pressure requirements.
Heat-only boilers – Heat only boilers are simpler boiler that provides heat energy directly into the radiators via the use of a hot water cylinder.
System boilers – A system boiler is a cylinder system that is an integrated, non-open valve system. System boilers are often recommended for properties with low water pressure; however, most system boilers require more space, than say a combi-boiler.
Got a common boiler problem? Check out our quick fix guide on boiler lockout, boiler ignition faults, boiler PCB faults, faulty diverter valves and boiler timer issues.
Boiler sizes
There are many different sized boilers available these days, however, the size does not relate to the physical measurement of the unit, but rather by the boiler's output wattage
Boiler makes and model – The boiler brand and model selection tends to be on personal preference.
There are plenty of options of boilers available on the market that will vary in terms of price, energy rating, duration of the boiler warranty provided and reliability.
In order to whittle down your choice, it may be worth undertaking some research online for the best models for the boiler type needed and checking customer reviews on Trustpilot.
Want to learn about all the factors that contribute to a boiler quote? Check out our boiler cost calculator to understand the latest boiler deals and what is factored into a gas boiler replacement estimate.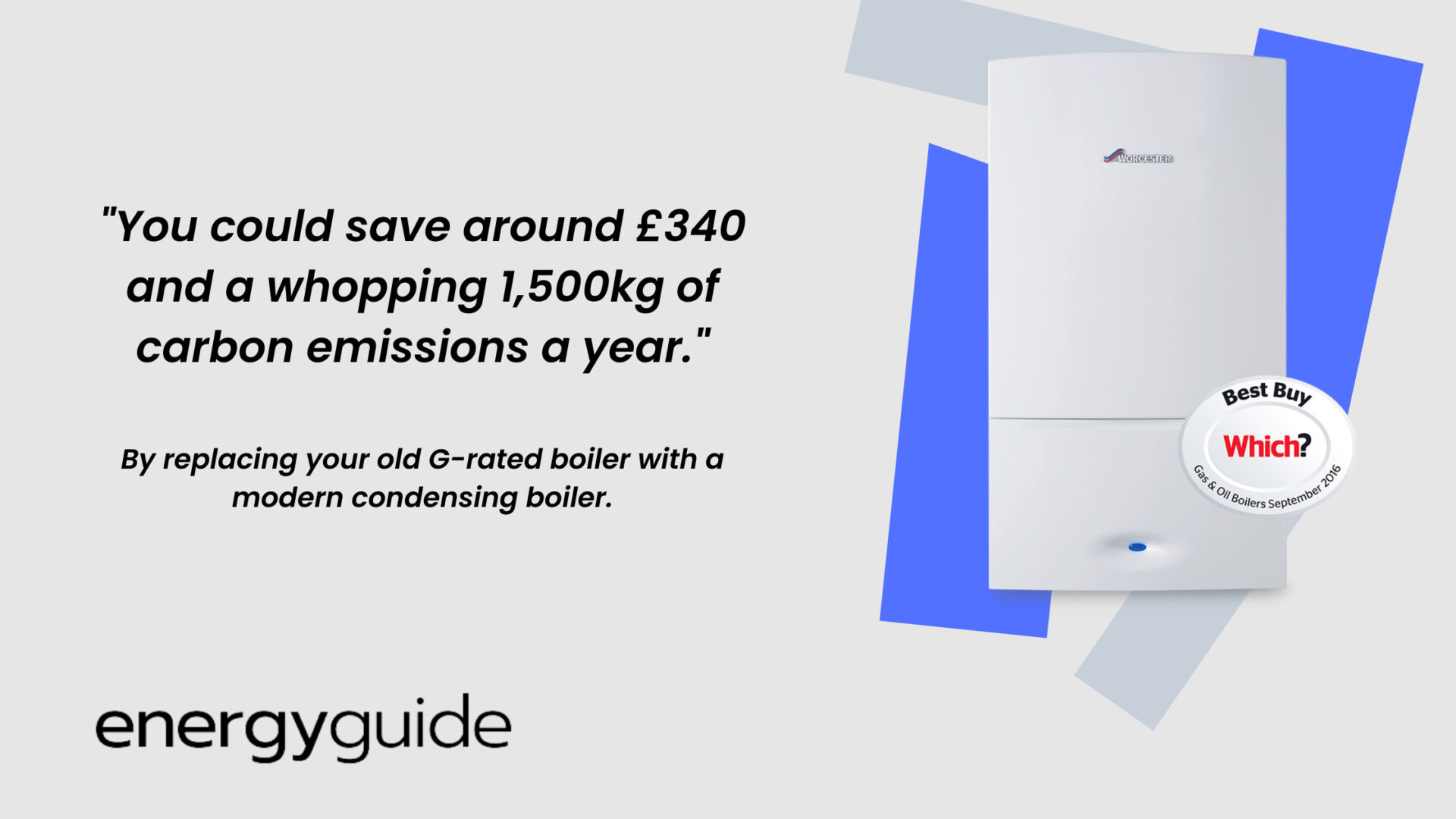 How to Compare Boiler Installation Quotes
It is suggested that three quotes are obtained in order to ensure that the quoted prices are reasonable within the current market, although often various companies will recommend different boilers as well as different services and therefore it is not easy to compare like for like.
We recommend requesting itemised quotes and asking questions if there are any elements that are unclear in order to strip the quotes back to their basic elements, which should then be more easily comparable.
Ordering Process for a New Boiler Installation
When you are ready to proceed with a boiler installation following obtaining some quotations, the common process for ordering a new boiler is as follows:
Step 1 – Confirm the quote and book an installation with the heating engineer, national company or online supplier. The Boiler will need to be installed by a qualified heating engineer as planned. Should any renovations works be required in order to prepare the property for the installation, these should be arranged ahead of the booked installation date.
Step 2 – The installation should not require much input from the homeowner other than ensuring that the area of the installation is accessible and clear in advance of the installation date.
Step 3 – Once the installation has been completed, the heating engineer should show the occupiers of the property how the new system works and will explain any additional requirement such as registering the boiler warranty.
What size boiler is right for your home? If you are thinking about a combi boiler, it is largely determined by the number of radiators in your home.
Check out our complete guide to new boiler installation here if you are wondering about the best type of boiler for your home.
How much may a new boiler cost? Are you considering converting from a conventional to a combi boiler? Use our boiler installation cost calculator to get an estimation.
Gas Boiler Replacement Costs UK Summary
In this post, we have reviewed the process of when a boiler may require replacing, the various elements that would need to be considering before placing an order, as well as the process of ordering a new boiler.
If there are any further questions regarding boiler installations, please feel free to get in touch with our team who will be able to advise further.
Further reading: