Are British Gas New Boilers cheap or a rip-off? In this review, we offer some basic comparisons to make your boiler buying journey a little easier.
British Gas are probably the UK's most recognisable name in the energy sector and offer both domestic energy and gas boiler installation.

At present, British Gas install the most boilers compared to any other company, currently installing an estimated 100,000 boilers each and every year across the UK.

Of course, many people choose British Gas entirely due to their recognisable brand and household name, but how do they actually compare to the competition?
British Gas Boilers Key Takeaways:

Are they the best? In this guide we will be determining:
The cost of British Gas Boilers & how they compare to the competition.
The boiler brands offered by British Gas and their accompanying warranties.
British Gas boiler service customer reviews.
Overall British Gas Prices for both their boiler survey and online installation services.
Let's find out how their new boiler installation services compares to other market leaders including BOXT, Homeserve, Heatable & other notable online boiler installers…
See local Energy Guide approved installers we recommend for your job:
British Gas New Boiler Costs & Price Guide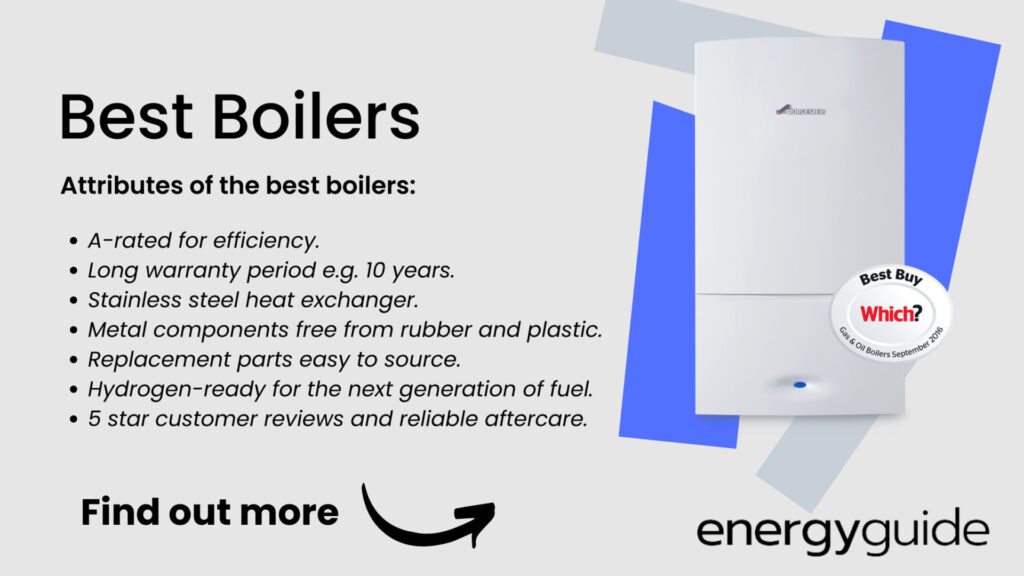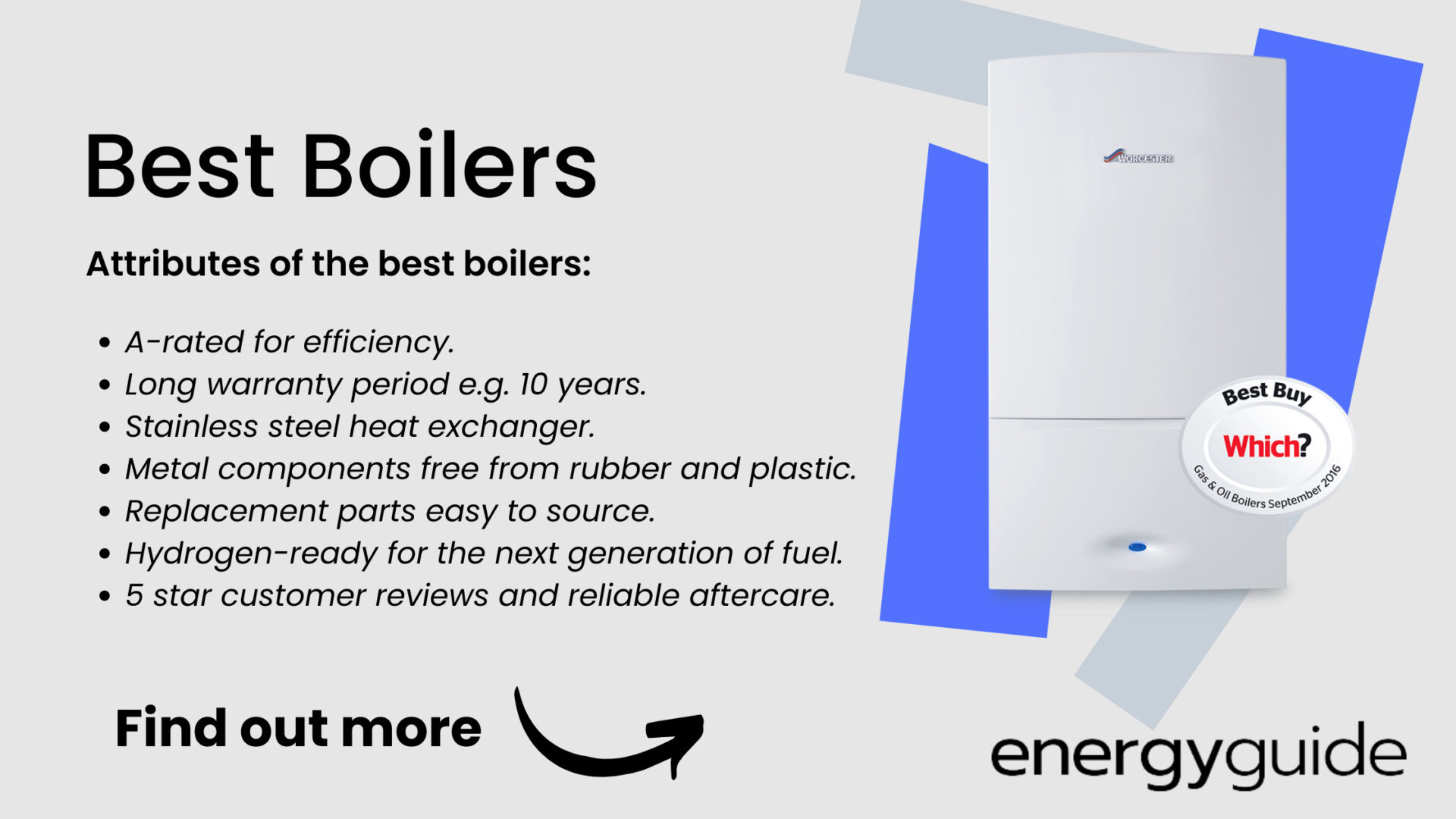 If you need your boiler replacing fast, you are probably frantically trying to find out which online boiler installer offers the best price and service.

British Gas are by far the most popular choice, followed closely by Eon, BOXT and Homeserve.

Traditionally, it was the norm to call several local plumbers to get a boiler quote, in which case they would attend your property and carry out a survey and afterwards would provide the itemised quote in full.

British Gas offer a similar service, where a British Gas sales representative will visit your home, carry out a survey and then offer a quote.
However, British Gas do also offer an online estimate on their website before you book the survey so you can get an indicative price.

As you can appreciate, this survey process is quite intensive, requiring commitment in terms of time, roughly, these at home surveys can take around an hour, so British Gas have already laid out substantial costs before they've even provided a quote.
In addition, British Gas is a huge company with thousands of employees and customer service staff, so this is a huge overhead for them to recoup.

Important note: most other online boiler installation companies e.g. BOXT and Heatable do not require an in person visit and instead rely on photographs and in some cases video footage. The entire fixed price boiler quote is provided entirely over the internet.
Wondering how much a new boiler costs? Check out our guide on options available if you need a new boiler but can't afford it, as well as boilers on finance and government boiler grants here.
How Much Are New British Gas Boilers?
Are British Gas the cheapest when it comes to their new boiler installation services?

The reality is that it is quite difficult to do a like for like comparison between different boiler installation companies, since they will typically have slightly different offerings i.e. offer different boiler brands and models, warranties and so on.

However, with that in mind, we have made a comparison between two identical types of gas boiler installation:
A standard combi boiler swap, using the Worcester Bosch swapping a combi boiler for a new Worcester Bosch Greenstar 4000 combi boiler, installed in the same location, including a horizontal flue and a smart thermostat.
British Gas Boiler Prices Examples:
Here are a few British Gas boiler price examples taken from their online quotation tool:
| | |
| --- | --- |
| Worcester Bosch 8000 Life Combi Boiler | £3,225 |
| Worcester Bosch 4000 Combi Boiler | £2,325 |
| Worcester Bosch 30Si Combi Boiler | £1,975 |
| Worcester Bosch 2000 Combi Boiler | £2,225 |
| Worcester Bosch Greenstar 25Si Combi Boiler | £2,115 |
Wondering which boiler manufacturers performed best? Check out our best boiler brands guide for the full rundown.
If you are trying to determine who the best boiler installation company is, check out our reviews of some of the most popular gas boiler replacement companies:
iHeat Review.
Eon Review.
Heatable Review.
In this specific example and on the specific date, British Gas charge £2,964 for the boiler installation and include a Hive smart thermostat, as well as a 5 year warranty.

British Gas also offer boilers on finance, in which case you can pay for your new boiler over 24 months, with 0% available.
However, if you opt to order the job on the British Gas Online method, you can make a substantial saving, indicating that they are adding the additional cost of the home survey into the price.

Therefore, if possible, it is better to go the online route if you want to maximise savings, but unfortunately, this service is only currently available for the most straightforward types of boiler installs.
HomeServe offered the same type of install and boiler model for £2,727 which is £237 (-8%) less than British Gas.
See local Energy Guide approved installers we recommend for your job:
In terms of finance they also offer the same terms and include a home survey, the major difference between the two brands is the types of smart thermostats offered – British Gas use their own Hive model, while HomeServe use the Netatmo.

BOXT is a newer arrival to the boiler installation company market, but they do offer competitive pricing and extremely long boiler warranties, which makes them even more appealing.
For example, for the same type of install, BOXT offer to do it for £2,120, a significant saving of £844 (-29%) versus the British Gas home survey price. BOXT also offer a 10 year warranty, which is significantly longer than both rivals.

Here is a summary of the cost comparison and other key metrics between each brand (accurate on that date and for this specific type of install):
British Gas Boiler Prices Comparison Table 2022:
| | | | | | | | |
| --- | --- | --- | --- | --- | --- | --- | --- |
| | British Gas Home Survey | British Gas Online | Saving on BG Home Survey vs Online | HomeServe | Saving vs BG Home Survey | BOXT | Saving vs BG Home Survey |
| Cost of a Worcester Bosch Greenstar 4000 Installation | £2,964 | £2,578 | -£386 | | -£237 | | -£844 |
| Boiler Finance | 24 month 0% APR | 24 month 0% APR | | 24 month 0% APR | | 120 month 10.9% APR | |
| Type of smart thermostat included | Hive | Hive | | Netatmo | | Nest | |
| Warranty Period | 5 years | 5 years | | 7 years | | 10 years | |
| Next Day Installation | Yes | Yes | | Yes | | Yes | |
The information collected in the table above was correct as of 10-02-2022 and for a particular type of installation e.g. combi boiler, horizontal flue, smart thermostat and a Worcester Bosch 4000 model.

Important note: please be aware that the above table is for illustrative purposes only and in order to get an accurate price for your specific circumstances, you will need to request a personalised quote from each of the providers listed.
New boiler cost guides:
British Gas Customer Reviews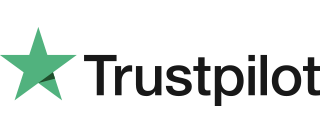 When it comes to choosing any type of service for your home, checking out previous customer reviews is a real way to look beyond the marketing and get a real feel for how the company truly performs.

A great platform to check reviews is the third party review platform Trustpilot, where customers can leave both negative and positive feedback and score customers out of 5.
So how did British Gas boiler perform?




Of course, the overall score can change over time, but as of April 1st 2022, British Gas had an overall score of 3.1 out of 5.

In comparison, HomeServe UK have an average score of 4.3 for the same period, while BOXT have an average score of 4.9.

These reviews give you an indication of how customers feel about the service received, which many people do indeed find helpful.
What Boilers Do British Gas Install?
Like other major online boiler installers, British Gas do not make any of their own boilers.
Rather, British Gas install boiler brands from all major manufacturers including Worcester Bosch, Viessmann, Baxi, Ideal Heating and Vaillant.

British Gas Installation Prices Verdict
In our experience of seeking a quote, if you are buying your boiler from a household name like British Gas you can expect to pay more than other rivals.

If you don't like the idea of purchasing a boiler without a home survey, then you may want to try HomeServe.
However, if you don't mind carrying out the entire boiler buying process online, then BOXT is a superb option.

Again, please be aware that the boiler quote examples provided in this post are not representative of all types of boiler installations and were used for illustrative purposes only. They were also only accurate at the time and date they were given.

Therefore, it's always advised that you seek your own quote from all providers using your own details and choices to get an accurate and current price.