If you need a new boiler but are struggling to find the funds to pay for it, thankfully there is help and other options available to you.
Let's face it, having a new boiler installed is expensive, in fact in the UK the average cost is somewhere between £1,500 and £2,000 to have a gas boiler replaced.
So what can you do?
In this guide, we cover all the potential options available to you including government support in the form of boiler grants, as well as other feasible options you may wish to consider since the reality is that not everyone will be eligible.
See local Energy Guide approved installers we recommend for your job:
How to pay for a new boiler when you can't afford it
In summary, you have the following options available to you, which we will cover in more detail below:
Who qualifies for a boiler grant in the UK?
The Energy Companies Obligation (ECO4) Scheme is a Government and Energy company initiative that was set up with a few major goals, these are as follows:
To improve the energy efficiency of UK households.
To help reduce fuel poverty.
To make energy and therefore home heating more affordable.
In short, the ECO3 scheme allows some of societies most vulnerable households to apply for a grant to replace their old or inefficient boiler for free in order to help them reduce their heating bills in the long term.
The big energy companies involved with this scheme are British Gas, EDF Energy, and Npower, among others.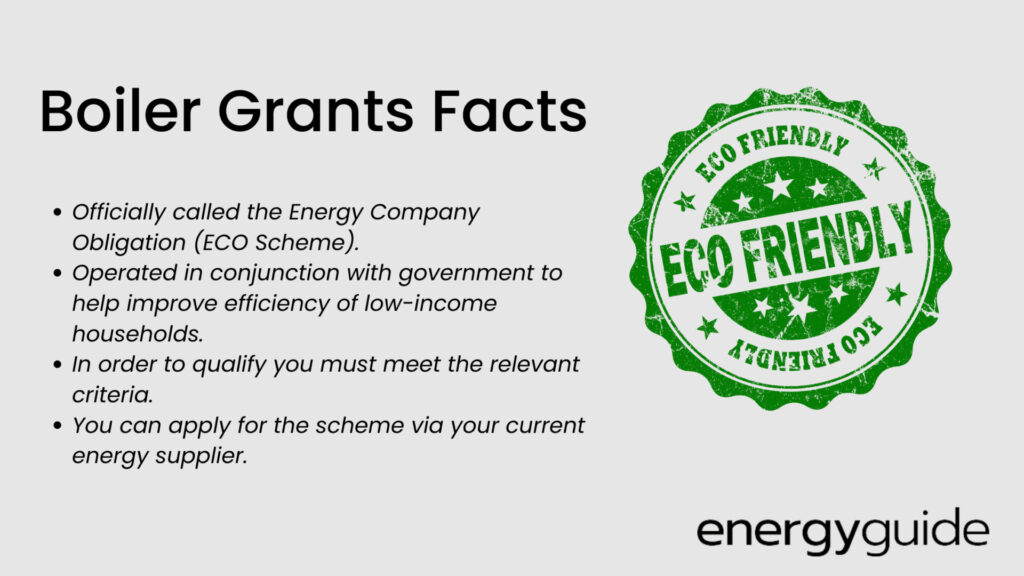 What do you need to qualify for a free boiler grant?
In order to qualify for a boiler grant, also referred to as the ECO programme, you need to meet the following criteria:
The applicant must be the property owner e.g. not a landlord.
The current boiler in the property must be at least 8 years old.
The property must be connected to the mains gas supply.
The applicant must be in receipt of a qualifying benefit.
Who offer the best boilers deals in the UK? Check out our review of online boiler installation companies, boiler brands and the best UK boilers that topped our list concerning new boilers in the current year.
What type of benefits are accepted?
As mentioned, in order to qualify/be entitled to a government boiler grant, you will need to be in receipt of certain qualifying benefits, this includes the following:
Pension Credit Guarantee Credit Element
Income-related Employment and Support Allowance (ESA)
Income-based Jobseeker's Allowance (JSA)
Income Support
Working Tax Credits
Child Tax Credits
Armed Forces Independence Payment (AFIP)
Attendance Allowance
Carer's Allowance
Disability Living Allowance (DLA)
Severe Disablement Allowance
War Pensions Mobility Supplement
Industrial Injuries Disablement Benefit
Personal Independence Payment (PIP)
Constant Attendance Allowance
Child Benefit*
*If you claim Child Benefit we will need to ask some additional questions to check if you qualify.
If you are currently in receipt of any of the benefits listed above, you may be entitled to a boiler grant, but bear in mind there may be other income thresholds you have to meet.
What are the income thresholds?
In order to be entitled to the ECO grant funding for a new boiler, you must also fall within any of the following income thresholds:
If you are a single claimant:
One child – £18,500.
Two children – £23,000.
Three children – £27,500.
Four or more children – £32,000.
If you are claiming as a couple:
See local Energy Guide approved installers we recommend for your job:
One child – £25,500.
Two children – £30,000.
Three children – £34,500.
Four or more children – £39,000.
Which energy companies are involved?
As mentioned the ECO funding scheme or boiler grant scheme is operated in conjunction with both energy companies and the government.

The energy companies currently operating the scheme include the following energy companies:
Avro Energy
Bristol Energy
British Gas
Bulb
Co-operative Energy
E
Economy Energy
Ecotricity
EDF Energy
Eon
Extra Energy
Flow Energy
Green Network
Green Star
iSupply
Npower
Octopus Energy
OVO Energy
Pure Planet
Scottish and Southern Energy
Scottish and Southern Energy
Scottish Power
Shell Energy
So Energy
Spark Energy
SSE
Utilita
Utility Warehouse
Utility Warehouse
Check out our boiler brand price guides and comparisons:
How do you apply for a boiler grant?
If after reading the above criteria you think you may be entitled to a boiler grant, you can apply for one by contacting your current energy supplier.

Typically, they should have already alerted you to your entitlement, but if not, the quickest way to find out if you are eligible is to contact them directly to find out.

If you are the next stage of the process is to get a consultation from one of their representatives.
They will then ask you all necessary questions and carry out a full survey of your home to find out exactly what is required.
Wondering how much a new boiler costs? Check out our guide on options available if you need a new boiler but can't afford it, as well as boilers on finance and government boiler grants here.
Which other free boiler schemes are available?
If you are not eligible for the Government ECO3 scheme, then it is worth checking if you meet the criteria for other schemes such as the Boiler Upgrade Scheme, or the Affordable Warmth Obligation initiative.
As well as helping to replace boilers, this scheme can also help with repair costs and home energy efficiency upgrades, for example, updates to the insulation in your home such as adding insulation to the loft or cavity walls.
For this scheme, as well as the criteria mentioned above, typically applicants must also have a household income of less than £20k per year in order to be accepted.
This scheme is also available to pensioners who live in social housing, as long as the boiler in question has an energy efficiency rating of either E, F, or G.
What size boiler is right for your home? If you are thinking about a combi boiler, it is largely determined by the number of radiators in your home. Check out our complete guide to new boiler installation here if you are wondering about the best type of boiler for your home.
How much may a new boiler cost? Are you considering converting from a conventional to a combi boiler? Use our boiler installation cost calculator to get an estimation.
Boiler Upgrade Scheme (BUS)
As previously mentioned, the ECO4 scheme is one of two forms of boiler funding available in the UK. The second is the BUS.
The BUS scheme provides grants to encourage property owners to replace existing fossil fuel heating systems with low carbon, more efficient heating systems.
These include ground source heat pumps, air source heat pumps, and biomass boilers in limited circumstances.
The scheme operates similarly to the Green Homes Grant Scheme.
The government contributes a fixed sum towards the upfront costs of low carbon heating technologies, and the property owner pays for the rest.
The scheme opened for grant applications on 23rd May 2022 and will run up to 2025 with a £450m funding confirmed for the three years.
You'll benefit from a 0% VAT rate on the purchase and installation of the low carbon heating technologies.