If you are already browsing the boiler market in order to either replace a faulty boiler or install a new system, you may have already come across the company WarmZilla.
In this review, we will explore what WarmZillia is and how it works, what types of boilers the company supplies, and the average costs involved with buying a boiler online via WarmZilla.
What is WarmZilla and How does it Work?
WarmZillia is an online company, based in Cardiff, Wales that aims to provide an easy, hassle-free method of buying a new boiler online along with improved customer service and speed of service compared with traditional boiler purchasing methods.
The company was incorporated in November 2014 and was set up by two heating engineers that have over 25 years of industry experience between them.
WarmZillia works online in order to save the consumer money without large company overheads and an on the road sales team to fund.
See local Energy Guide approved installers we recommend for your job:
These savings are passed onto the consumer resulting in very competitive quotes for boilers.
The WarmZillia website guides potential customers through a short, multiple-choice survey in order to assess suitable boilers for the property and household requirements, to provide quotes in just a few minutes.

Wondering which boiler manufacturers performed best? Check out our best boiler brands guide for the full rundown.
If you are trying to determine who the best boiler installation company is, check out our reviews of some of the most popular gas boiler replacement companies:
iHeat Review.
Eon Review.
Heatable Review.
The questions will also gather information in order to assess if any additional parts are required for the installation such as longer pipework or replacement flues so that the new installation meets the up to date safety legislation and recommendations.
Once the fixed price quotes have been compared by the consumer online via the user-friendly website, a boiler order can be placed online along with choosing an installation date that suits the customer, often within just a couple of days.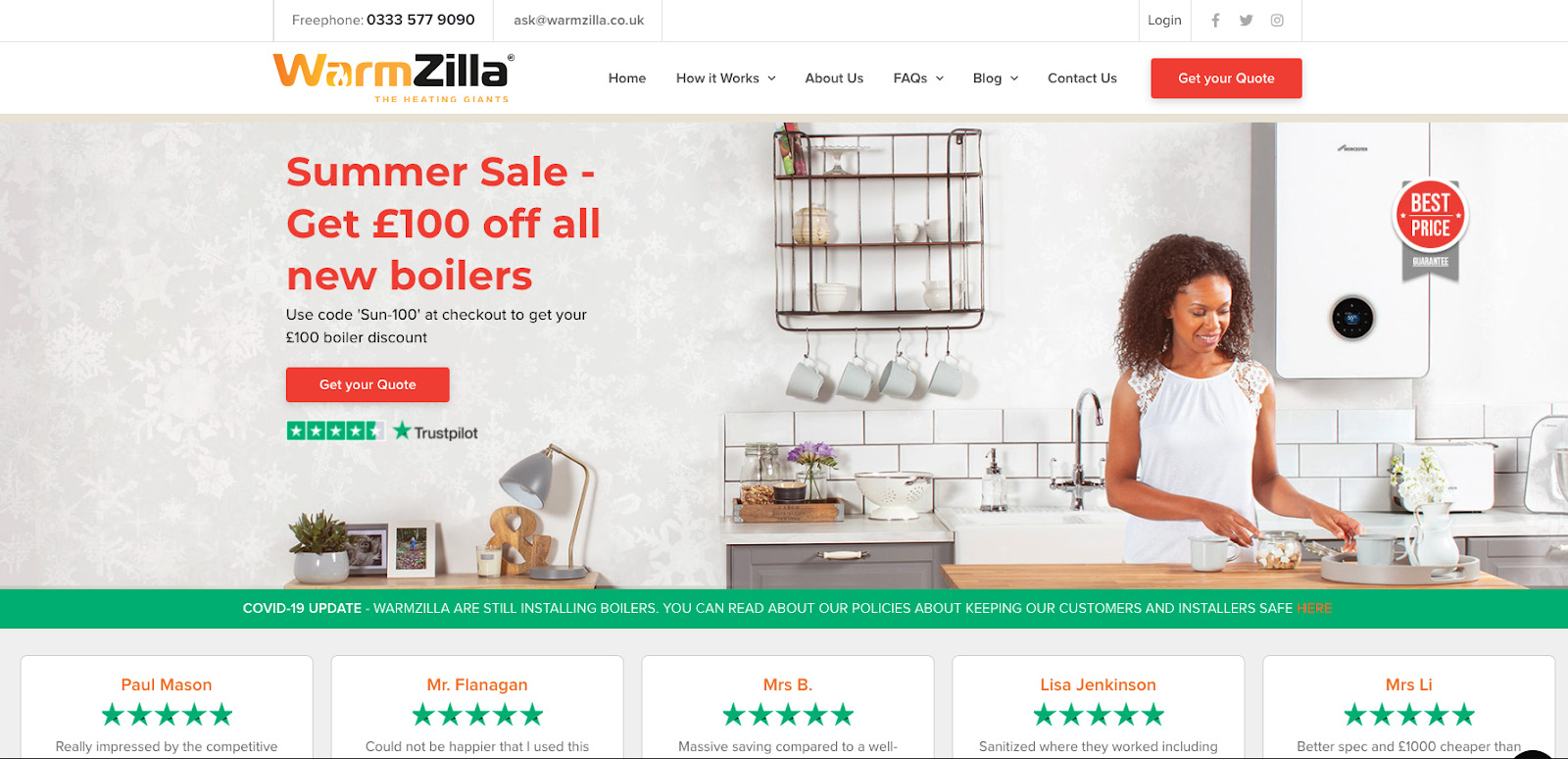 A network of Gas Safe registered installers are linked to the company, ready to install the customer orders.
WarmZilla offers top branded boilers at great prices, as well as providing a range of finance options to spread the cost of buying a new boiler.
In addition, the company also offers free system cleanses, system filters and wireless controls in order to kick start the system and provide the most energy-efficient system.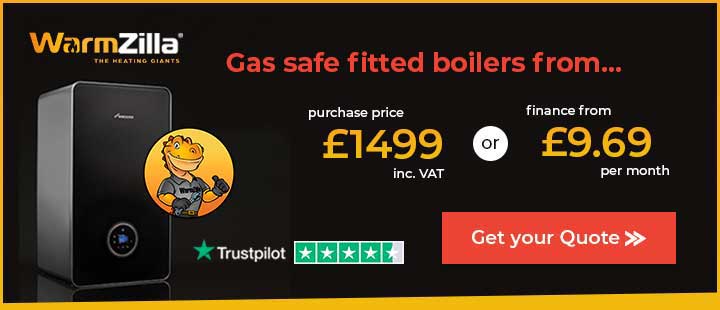 What Boilers Brands do WarmZilla Supply?
WarmZilla features a range of top brands on their website including Worcester Bosch, Vokera and Ideal.
What are the Costs of Buying a Boiler via WarmZilla?
The prices quoted via WarmZilla will vary depending on:
The property type.
The type of fuel the boiler will use.
The boiler brand and model chosen.
The power output needed.
If other services are selected such as extended boiler warranties.
However, by using an online boiler supplier, consumers cut out the middleman and therefore obtain very competitive prices.
See local Energy Guide approved installers we recommend for your job:
Typically, the prices WarmZilla quote start at around £1,499 and go up to around £2,500, depending on the factors discussed above.
WarmZilla does offer the best price guarantee providing customers with peace of mind that they will provide the best value available on the market.
Should a lower quote be received from a competitor, WarmZilla will price match as well as offering £50 cashback also.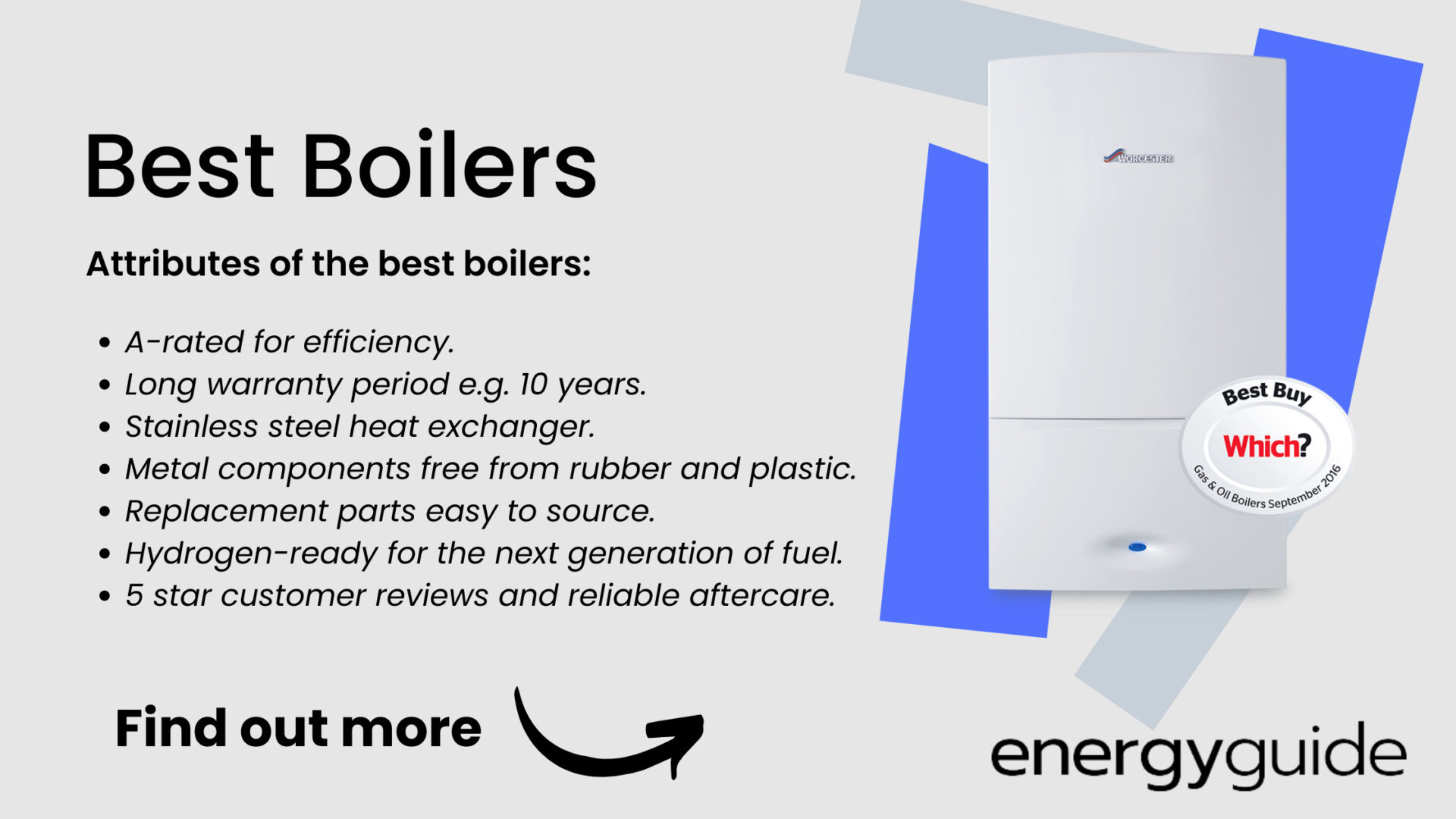 Did you know the efficiency of your boiler can impact the amount of energy it uses and ultimately impact your heating bill costs? Check out our guide to the best condensing boilers if you are interested to find out more.
You may also find our review of the best eco-friendly boilers of interest.
In addition to competitive pricing for the boiler installation, WarmZilla also offers a range of extras when purchasing a boiler through them as follows:
A Full System Cleanse
Before the new installation takes place, the Gas Safe Registered heating engineer will perform a cleansing of the current heating system in order to remove any debris.
This service protects the new boiler from the historic build-up of sludge that is a number one concern for boilers.
System Filter
An additional device fitted to the return pipe to the boiler catches any sludge from the pipework. This filter adds another layer of protection for your new boiler and will be cleaned out annually during a boiler service.
Smart Thermostat
A smart thermostat is also provided that enables the heating system to be controlled from an app from anywhere, which may help generate further savings on energy bills.
A Long Warranty
WarmZilla provides long product warranties of up to ten years, depending on the make and model of the boiler chosen. Long warranties provide the customer peace of mind that the new boiler's parts are covered.
Got a common boiler problem? Check out our quick fix guide on boiler lockout, boiler ignition faults, boiler PCB faults, faulty diverter valves and boiler timer issues.
Finance Options
WarmZilla also offers finance options that enable the customer to spread the cost of a new boiler and the installation.
The finance packages provided by Vendigo, will vary depending on the overall boiler installation cost and the finance terms offered, however, the monthly instalments can be as low as £9.70 per month as well as no deposit required.
All of which can be a great financial help, especially if the new boiler was an unforeseen expense.
Did you know the efficiency of your boiler can impact the amount of energy it uses and ultimately impact your heating bill costs? Check out our guide to the best condensing boilers if you are interested to find out more.
You may also find our review of the best eco-friendly boilers of interest.
Warmzilla Reviews

What do Previous Customers think of WarmZilla?
Currently, on Trustpilot, WarmZilla has 593 reviews with an overall score of 4.8 out of 5, including 91% of reviews leaving a 5-star review. This level of feedback provides WarmZilla with an overall 'excellent' rating.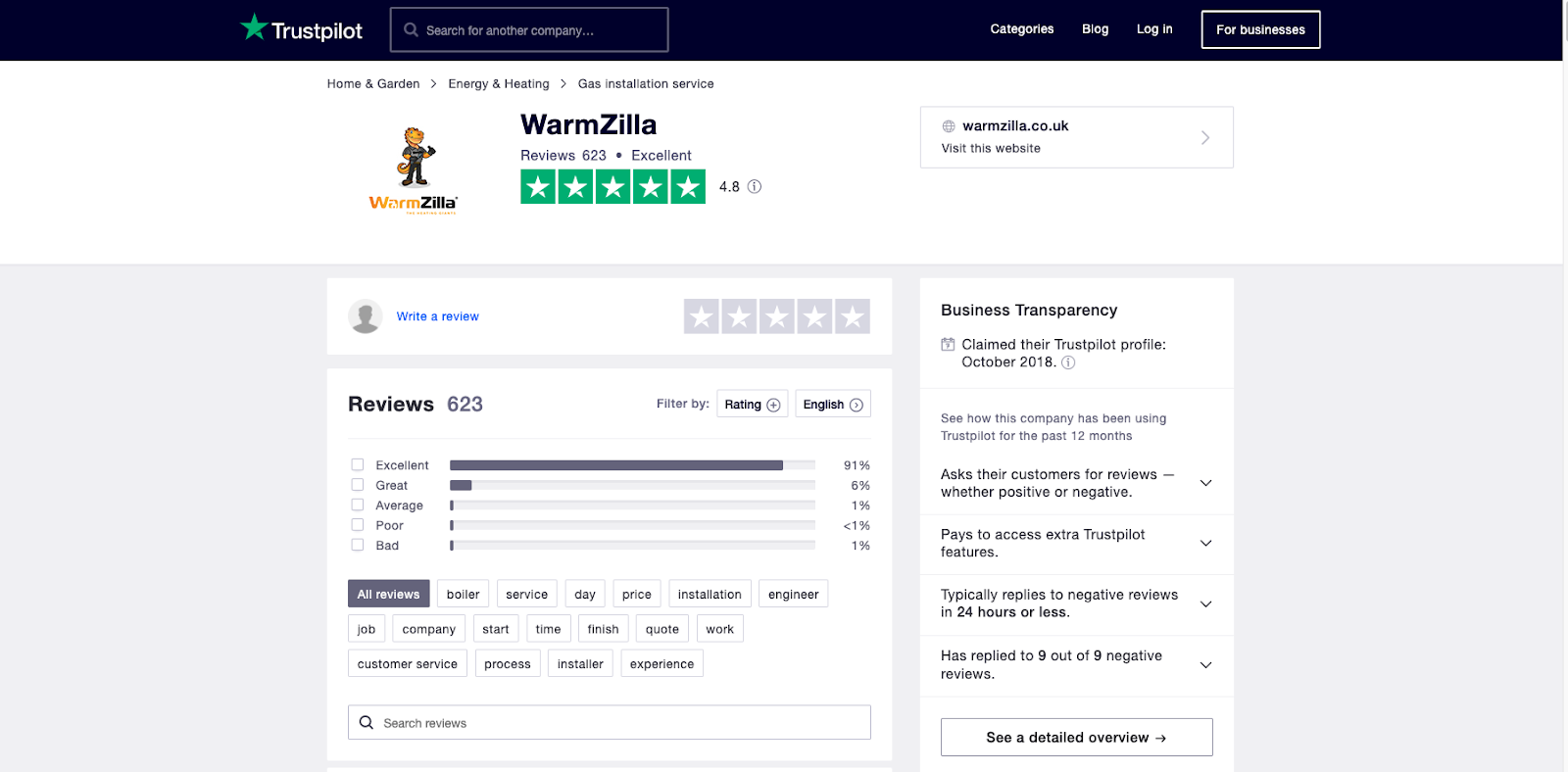 We often quote Trustpilot as it is a reliable source of customer feedback however WarmZllia also has excellent reviews posted up on their Facebook page and Google Business page.
WarmZilla Reviews Summary
The process of buying a boiler online via WarmZilla is simple, hassle-free and convenient, as well as saving the customer significant amounts of money by keeping company overheads low.
See local Energy Guide approved installers we recommend for your job:
The easy-to-use website survey guides the potential customer through a short questionnaire in order to recommend a handful of boilers, at which point WarmZilla will provide a fixed cost quote for their installation.
The consumer is then presented with a range of payment options, including finance options and can proceed with booking a prompt installation by a professional Gas Safe registered heating engineer on the day of the customer's choice.
The process of online ordering has revolutionised the industry however WarmZillia is not alone and does has some competitors within the same field in the industry such as BOXT, offering a very similar service.
WarmZillia have a great reputation supported by high scoring reviews on Trustpilot and other websites and therefore are highly recommended and should be considered when you are next in the market for a new boiler.
What size boiler is right for your home? If you are thinking about a combi boiler, it is largely determined by the number of radiators in your home.
Check out our complete guide to new boiler installation here if you are wondering about the best type of boiler for your home.
How much may a new boiler cost? Are you considering converting from a conventional to a combi boiler? Use our boiler installation cost calculator to get an estimation.
Further reading: