Are you looking to change your conventional boiler to a modern combi boiler? But are you wondering what's involved and how much it might cost?
Although it can seem like a straightforward endeavour, in most cases it requires substantial labour and materials to execute.
Although combi boilers are smaller and require less installation space, removing a conventional boiler and relaying pipework can be a lot of work.
In this article we've covered the most common questions and provided some estimations of costs and timelines you can expect.
See local Energy Guide approved installers we recommend for your job:
What Is A Combi Boiler?
A combi (short for combination) boiler is a boiler designed to provide both hot water and central heating from a single unit.
It is able to provide hot water on demand, meaning that if you use your tap or heating, the hot water will be provided almost instantly.
This is a unique feature not found in boilers that utilise a hot water tank, in which case you would have to wait for the water to heat up before you can use it.
A combi boiler works without a tank, instead it takes cold water directly from the mains and heats it as and when needed.
As you turn your tap on, cold water will be drawn into the boiler where it's heated up via the heat exchanger, which transfers the heat from the burning gas to the cold water.
In comparison to conventional boilers, the installation options for combi boilers are more flexible, since you do not have to install close by to a larger storage tank.
For this reason, they are preferred by those who have limited living space.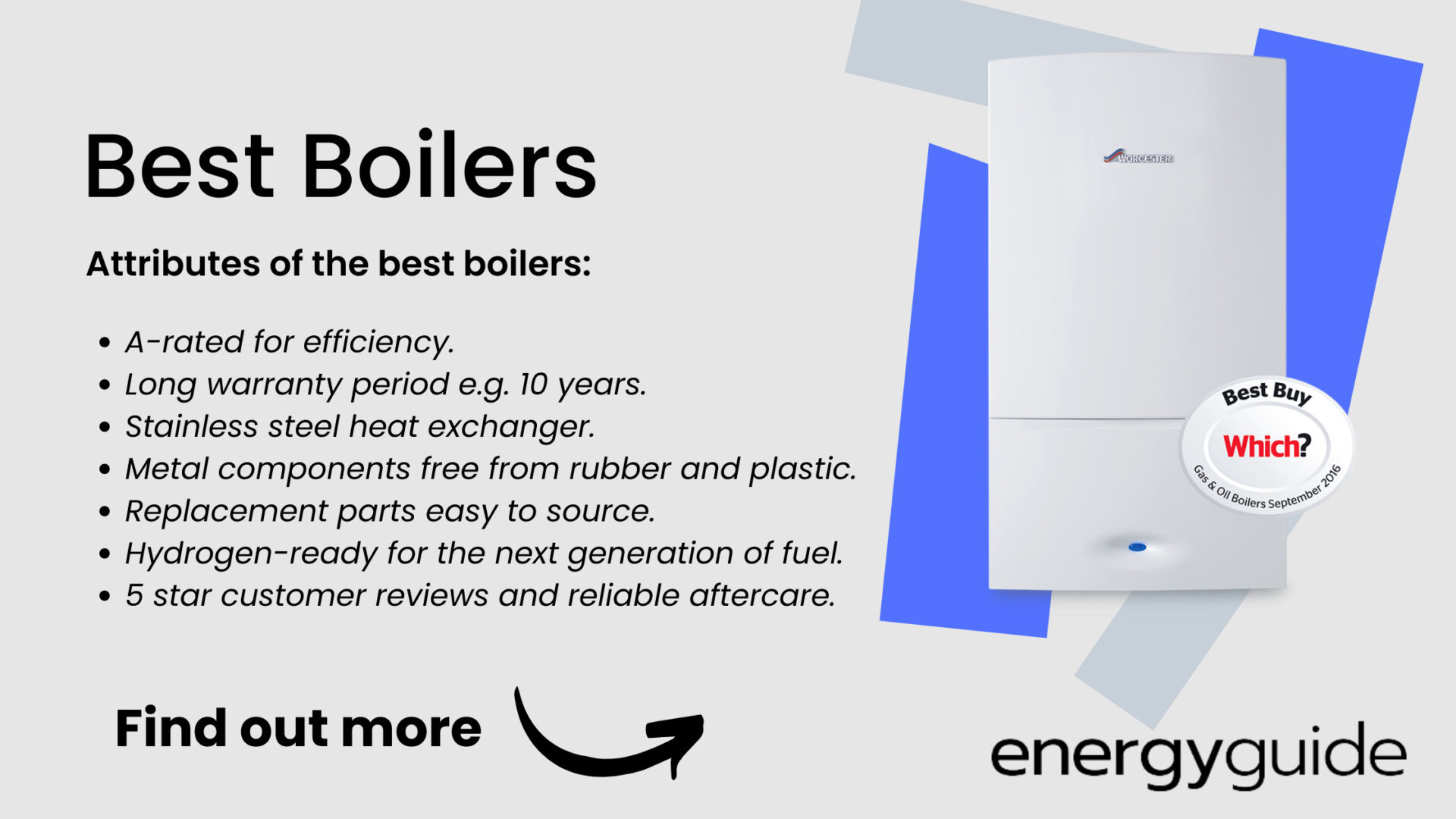 Wondering how much a new boiler costs? Check out our guide on options available if you need a new boiler but can't afford it, as well as boilers on finance and government boiler grants here.
Should You Switch Your Conventional for a Combi?
A combi boiler is suitable for most household properties in the UK, hence why they are the most popular type of domestic boilers used.
However, the reality is that they aren't always suitable, here are the main things to bear in mind when considering your options:
A combi boiler is a suitable choice unless you have a high demand for hot water and heating where several hot showers are running at once or dozens of radiators. Here's why:
Boiler Efficiency
Modern combi boilers are extremely energy efficient, as we explain in our boiler ERP efficiency guide. In fact modern combi boilers are A rated, meaning that they are around 90% efficient.
See local Energy Guide approved installers we recommend for your job:
In financial terms that means for every £1 you spend, only 10 pence is lost, that is extremely good compared to boilers just 10 years ago that were only 70% efficient.
This efficiency difference doesn't just mean combi boilers are better for the environment as they release less carbon dioxide, but it also means they use and waste less fuel, meaning you will also save money when your energy bills are concerned.
Wondering which boiler manufacturers performed best? Check out our best boiler brands guide for the full rundown and if you are trying to determine who the best boiler installation company is, check out our Warmzilla and Boxt reviews.
Do You Want to Save Space? 
If you have a property with limited space, a combi boiler is one of the most compact types of boilers, so it's ideal for you.
In fact, some newer combi boilers are marketed as being "cupboard size".
Conventional boilers are much larger on average and require a hot water storage tank since they do not provide hot water on demand, which itself takes up a considerable amount of space.
Additionally, combination boilers require less pipework than conventional boilers and are ideal for smaller and medium sized properties.
Lastly, they are typically much easier to service, install and repair, which also impacts installation and other associated costs.
What size boiler is right for your home? If you are thinking about a combi boiler, it is largely determined by the number of radiators in your home.
Check out our complete guide to new boiler installation here if you are wondering about the best type of boiler for your home.
How much may a new boiler cost? Are you considering converting from a conventional to a combi boiler? Use our boiler installation cost calculator to get an estimation.
Less Risks of Repairs & Breakdowns?
Many people argue that since combi boilers don't have as many moving components that have longer lifespans, and that they are easier to maintain and service.
What Is Involved In Changing From Conventional Boiler To Combi?
As well as being more complicated than a normal combi boiler replacement, a conventional boiler installation requires more time, materials and labour and as a result, these factors can influence the final cost.
Remember not only is this job incredibly difficult for the newbie, it is not legal to carry out any type of work with a gas appliance unless qualified and registered to do so.
Therefore, getting your boiler installed by a registered gas safe engineer is crucial.
Things a Gas safe engineer does during a swap from a conventional boiler to combi include:
Cleaning the current central heating system.
Removing the current conventional boiler and storage tank.
Removing associated controls.
Inspect the existing pipework to determine if any faults can compromise the combi boiler.
Installation of the new combi boiler and any required pipework.
Powerflush on the entire boiler system and installation of magnetic filters or limescale filters for hard-water areas.
Installation of new smart thermostats that can help prevent energy waste.
Testing of the new combi boiler system to ensure it's running correctly. The gas engineer will also provide tips on best usage and maintaining your combi boiler.
Did you know the efficiency of your boiler can impact the amount of energy it uses and ultimately impact your heating bill costs? Check out our guide to the best condensing boilers if you are interested to find out more.
Costs Of Changing From A Conventional Boiler To Combi Boiler
As mentioned earlier, the exact cost of a swap e.g. swapping a conventional boiler to a combi boiler can vary.
In general the costs will be impacted by the following factors:
See local Energy Guide approved installers we recommend for your job:
If you want to move your boiler to a new location in the house.
The boiler brand of combi boiler you opt for e.g. a premium model vs an value model.
The size of your property e.g. how much pipework is involved.
With that in mind, on average you can expect to pay anywhere from £2,000 to £3,000.
Remember, it's always advised that you get a variety of quotes before making a final decision.
Got a common boiler problem? Check out our quick fix guide on boiler lockout, boiler ignition faults, boiler PCB faults, faulty diverter valves and boiler timer issues.
Here are some general guidelines of the costs of different types of common boiler installations:
System boiler to combi boiler can cost from £2,000 to £2,500, with the replacement taking two days to complete.
Regular boiler to combi boiler can cost from £2,300 to £2,600, with the replacement taking two days to complete.
Back boiler to combi boiler can cost from £2,500 to £3,200, with the replacement taking 3 to 3 days to complete.
Old combi boiler to new combi boiler can cost from £2,000 to £2,500, with the replacement taking around two days to complete.
Additionally bear in mind that you can expect to pay a little more to have your tank removed from the property, as this involves more time and labour.
On average, this will cost around £150 for a storage tank to be removed and around £200 for a header tank (typically located in the loft).
Which is the Best Combi Boiler? 
With so many boilers on offer today, it can be very difficult to know exactly which one to choose, however, these are some things you should pay attention to:
Warranty period – How long is the warranty offered? Ideally, it should be 10 years as this means repairs and callouts will be covered. You can get cheaper boilers, but they will often have a much shorter warranty period.
Boiler size e.g. kw output – Is the boiler large enough for your property? Make sure not to under or oversize your boiler.
Physical dimensions – The size e.g. physical dimensions is equally important as it will need to fit where you intend it be installed.
Although you may find cheaper boiler deals on cheaper brands with shorter warranties, it's important to consider if this is really worth it in the long term.
A shorter warranty is often an indicator of poorer quality, so this is worth remembering.
Got a common boiler problem? Check out our quick fix guide on boiler lockout, boiler ignition faults, boiler PCB faults, faulty diverter valves and boiler timer issues.
You may also find our review of the best eco-friendly boilers of interest.
Check out our boiler brand price guides and comparisons:
Changing From Conventional Boiler To Combi Conclusion
In many situations. getting your conventional boiler replaced with a modern combi boiler will be well worth the investment, but you should be prepared to invest a little more than you would if you were getting a typical like for like replacement.
The bottom line is that combi boilers are extremely compact, ultra efficient and easy to service, repair and maintain.