Are you looking for a quiet boiler that won't cause a racket or wake you up? The good news is that there are boilers that have been designed to limit their noise production.
There is a wide range of reasons why the noise level of a boiler may be an issue, for example, the location of the boiler within a household with close proximity to living areas of the property.
With increased working from home due to the pandemic, household noises have increasingly become more noticeable and therefore next time your boiler is due for an upgrade, the noise level of the operations may be more of a priority.
Important: All boilers will make some noises when operating, and some are louder than others, however, the noise level does not directly link to the boiler size or kW output.
Quietest Boilers Key Takeaways:
All boilers make some amount of noise.
Noise is measured in decibels or dB.
The average boiler will range between 30dB and 60dB.
When shopping for a new boiler that's also been classified as "quieter" look for QuietMark accreditation.
The Viessmann Vitodens is one of the quietest award winning boilers at 36dB.
To get an accurate quote for a new boiler, you can start your application with Which? approved boiler installers Heatable here.
Therefore when shopping for a quiet boiler can be confusing, but don't worry, we will be reviewing the quietest boilers currently available across a range of boiler types.
See local Energy Guide approved installers we recommend for your job:
We will also briefly cover how boilers work, how noise is measured from a boiler and the reasons why your current boiler may be operating more loudly than normal.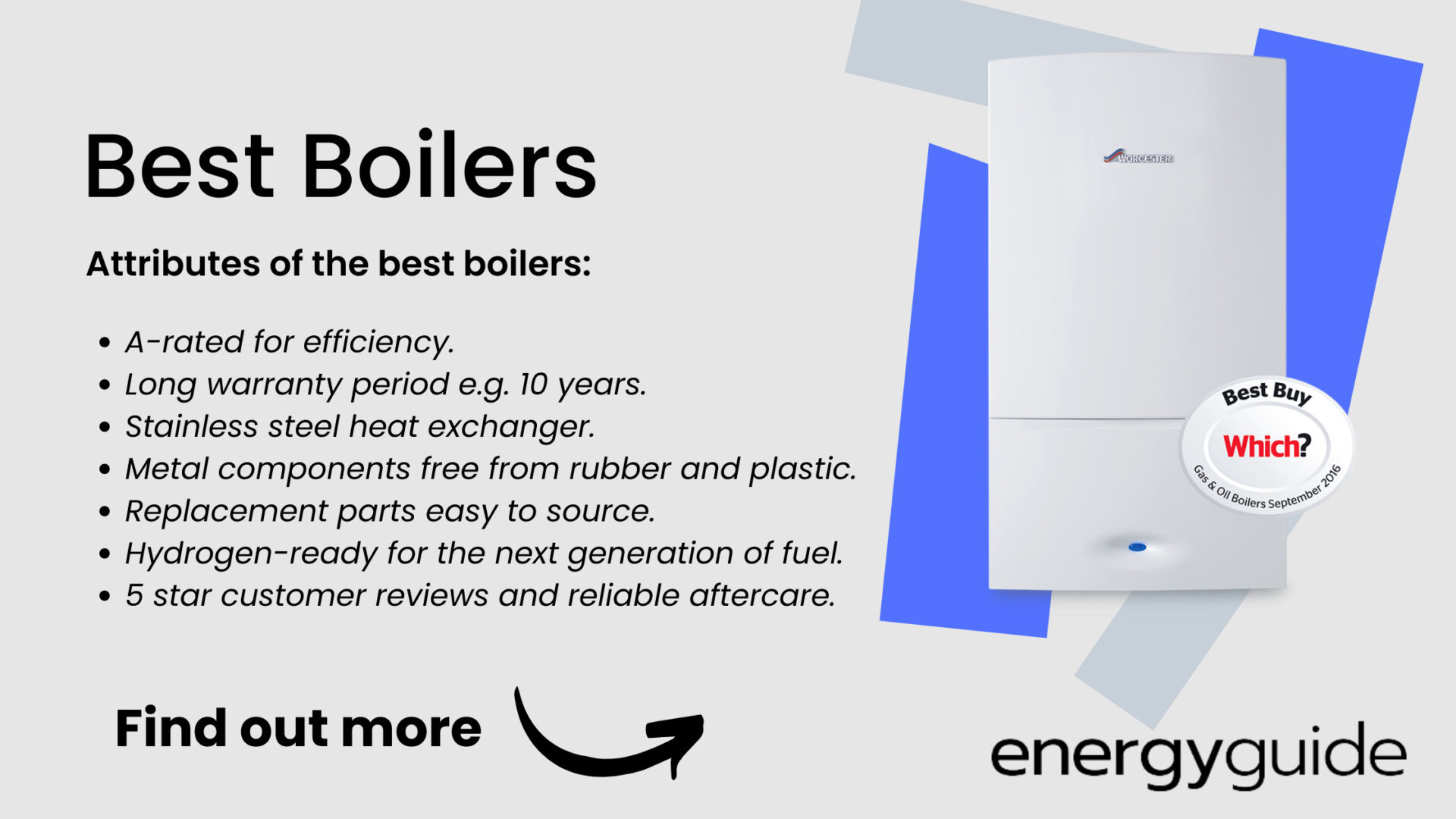 What is a Boiler and How does it Work?
A boiler is an essential component within a heating system, producing the heat, and sometimes hot water too, for the property.
The boiler itself can be fuelled by mains line gas, oil or natural sources of energy, and often the fuel source and boiler size would usually determine the location of the boiler.
Gas combi boilers are often fitted within a kitchen, utility space or similar where the gas pipework is fitted to enter the property, whereas heat pumps are usually located externally.
How are the Noises Measured from a Boiler?
Noise levels are measured by using a universal decibel scale to identify the intensity of the sound. The measurement observed is called a decibel unit (dB).
An average person can hear sounds within the range of 0 to 180dB, however, repeated or prolonged exposure to sounds over 85dB can cause permanent hearing damage.
The average boiler will make noises between 30dB and 60dB when in operation depending on the make and model, however, if there are issues with the boiler or its components, banging or louder noises can sometimes be audible.
We will discuss unusual boiler sounds further later on in this guide, but firstly let's explore the quietest boilers on the market currently.
How to Shop for a Quiet Boiler
The boiler manufacturer industry is used to thoroughly test their products before they go to market as well as publishing the results.
Did you know the efficiency of your boiler can impact the amount of energy it uses and ultimately impact your heating bill costs? Check out our guide to the best condensing boilers if you are interested to find out more.
You may also find our review of the best eco-friendly boilers of interest.
Quiet Mark Accreditation

These can be found online and compared in order to help a consumer opt for a quiet boiler, however in addition to such tests shoppers can also lookout for a Quiet Mark.
Quiet Mark is an independent certification programme that scientifically tests products, including household goods and identifies the quietest ones to certify their Quiet Mark seal of approval.
See local Energy Guide approved installers we recommend for your job:
There are a number of boilers that are awarded a Quiet Mark including Glow-worm Energy (both the Ideal Logic Max and Plus) as well as a number of the Vaillant Boilers including the ecoFIT Pure model and ecoTEC Exclusive Green iQ.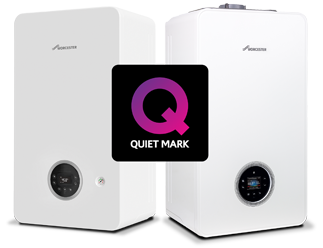 Related reading:
Quietest Combi Boilers
Modern combi boilers generally aren't too noisy however if browsing the market for quiet combi boilers, the following manufactures and models may be of interest:
Viessmann Vitodens 200 – 36 dB
Worcester Bosch Greenstar 200 – 43 dB
Ideal Logic Max C35 – 44 dB
Vaillant EcoTec Plus 838 or 938 – Both have tested at 45 dB
Quietest System Boilers
The quietest system boilers available currently are:
Worcester Bosch Greenstar 4000 – 42 dB
Ideal Logic Max– 44 dB
Glow-worm Energy 12S – 45 dB
Vaillant EcoTec Plus 630 – 48 dB
Vokera Vision S – 50 dB
Quietest Regular Boilers
The quietest regular boilers currently on the market are as follows:
Ideal Logic Max Heat – 36 dB
Baxi 600 Heat – This range of boilers have tested between 37 dB and 49 dB depending on the boiler size needed
Viessmann Vitodens 100-W Open Vent – 39 dB
Ideal Mexico HE – 40 dB
Worcester Bosch Greenstar Ri – This range of boilers have tested between 45 dB and 52 dB depending on the boiler size chosen
Got a common boiler problem? Check out our quick fix guide on boiler lockout, boiler ignition faults, boiler PCB faults, faulty diverter valves and boiler timer issues.
Why is My Boiler Loud and Making Unusual Noises?
As we have been discussing, most boilers will make low-level noises when in operation such as clicking, humming and sounds of moving water, however, if your current boiler is making louder or unusual sounds such as banging or gurgling, it could be a sign that something is wrong.
Boiler noises that signify more serious boiler problems
Banging noises
Such sounds often suggest that there is a build-up of limescale or debris inside the boiler itself affecting the components and therefore performance of the boiler.
Common issues are a blocked burner, ignition or heat exchanger and a Gas Safe engineer would be needed to be called to safely identify the cause of the noise, exploring if clearing any blockages would rectify the matter, or if there are faulty parts that would require replacing.
Whistling noises
High pitched whistling noises can be a sign that there is low water pressure, trapped air or a blockage within the boiler.
The boiler itself may help diagnose the root cause by displaying an error code within the display window, however often all of these concerns would require assistance from a Gas Safe registered heating engineer due to the location of these internal parts.
Gurgling noises
A gurgling noise coming from the boiler could be the result of a frozen condensate pipe. If your boiler is making this sound, check the pipe and slowly defrost by using rags soaked in boiling water. If this does not resolve the matter, call a professional for further assistance.
What size boiler is right for your home? If you are thinking about a combi boiler, it is largely determined by the number of radiators in your home.
Check out our complete guide to new boiler installation here if you are wondering about the best type of boiler for your home.
How much may a new boiler cost? Are you considering converting from a conventional to a combi boiler? Use our boiler installation cost calculator to get an estimation.
Types of boiler
System boilers
This type of boiler works by heating cold water that has been received directly from the mains, by the use of a heat exchanger.
Once the water is heated, it can be stored in the system hot water cylinder for later use.
Regular boilers
Regular boilers, otherwise known as heat only boilers utilise large cold water storage units that feed the boiler, rather than directly fed from the main water supply.
The following steps of heating and storing the heated water are similar to that of a system boiler, requiring a hot water cylinder within the property.
See local Energy Guide approved installers we recommend for your job:
Combi boilers
As we have briefly mentioned, combi or combination boilers provide both heating and hot water to a property via one unit, directly from the mains.
This type of boiler can be used on-demand and are often installed within smaller, modern residential properties saving on space as no storage tanks are required.
Combi boilers are often highly energy-efficient, however, they may not be suitable for all types of properties depending on the demand for hot water and the area's water pressure.
Eco Biomass Boilers
Biomass boilers are a highly efficient eco-friendly alternative boiler, fuelled by renewable organic materials such as wood.
Oil boilers
Oil fuelled boilers are often fuelled by kerosene oil and are usually found in areas of the country where there is no access to the mains gas network.
Oil fuelled boilers can either provide heating only or both heat and hot water.
Wondering which boiler manufacturers performed best? Check out our best boiler brands guide for the full rundown and if you are trying to determine who the best boiler installation company is, check out our Warmzilla and Boxt reviews.
Quietest Boilers: In Summary
In this guide, we have explored how to shop for quiet boilers, discussed the Quiet Mark and briefly covered why your current boiler is making unusual noises.
Should you need any further assistance with your current boiler or selecting a new quiet boiler that is appropriate for your property, please contact a qualified heating engineer for expert, tailored advice.