How much was the energy price cap in the past? And how much has it increased since its initial conception? And what can we expect it to be in 2023?
The energy price cap was first introduced by Ofgem on 1st January 2019 and was applied to default energy tariffs, also called standard variable tariffs (SVTs).
The price cap provides households across the country with protection by limiting the rates a supplier can charge for their default tariffs.
The price cap is reviews and updated by energy regulator Ofgem twice each year.
History of the Energy Price Cap
Below you can see the timeline of the energy price cap over time, as you can see it's had a very erratic history.
From it's initial introduction in 2019 it has tended to be increased twice annually when it is reviewed in February and August, two months prior to the changes actually being enforced.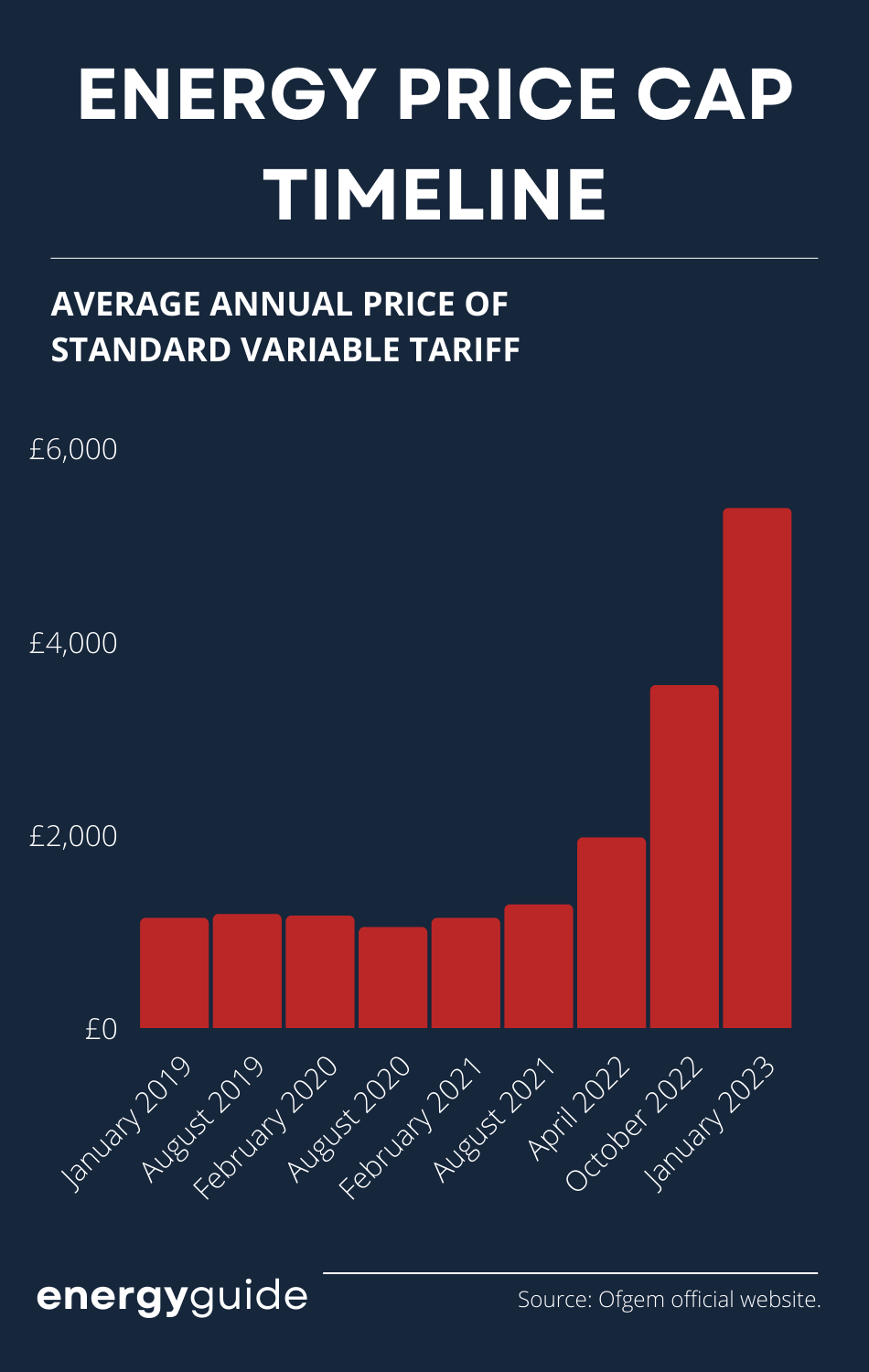 In 2022 the energy price cap has seen its biggest increase ever, with a 54% price cap increase in April and an 80% increase in October 2022.
The current energy price cap stands at £1,923 per year (affective from the 1st October until the 31st December 2023).
However, it's important to be aware that this is not a cap on the total figure you pay, but the unit cost per kWh, i.e. the £1,923 cap only applies to household's with typical usage.
This means you will pay 27.0p/kWh for electricity and 7p/kWh for gas, inclusive of VAT, from 1st October 2023 until 31st December 2023.
Recommended reading:
In response, the government has launched the cost of living support package to help with spiralling living costs.
All UK households will receive a £400 energy rebate from October 2022, while those on a low income, who are more vulnerable to increasing prices, are set to receive an additional £650 of support. 
How is the Energy Price Cap Calculated?
Ofgem calculates the energy price cap by using the average gas and electric usage in the UK, which is 12,000 kWh per year for gas and 2,900 kWh per year for electricity.
What is the energy price cap per kwh?
Average UK Electric Bill
According to UK energy regulator Ofgem, the average household of 2.4 people uses 2,900 kWh of electricity each year, at an average cost of 20p/kWh.
This means that the average electric bill in the UK is equal to £580 per year or £48.33 per month.
Important update: the new energy price cap from October the 1st 2022 will increase the cost of electricity to 52p per kWh, an increase of more than 80%, therefore averages are not going to be very useful.
To find out more about what you can expect to pay, check out our complete guide on appliance running costs and our guide on the average electricity costs per kWh from October onwards.
Average UK Gas Bill
In terms of the average gas bill, the average UK household uses 12,000kWh of gas every year at a cost of 7p/kWh.
This means that the average gas bill in the UK is equal to £840 per year or £70 per month.
What is the Energy Price Cap & How Does it Work?
The energy price cap was introduced under former UK prime minister Teresa May.
It's goal was to protect households from the increasing wholesale energy prices and help prevent households falling into fuel poverty.
In practice it stops energy suppliers charging what they want per kWh of energy used, and it also considers the real wholesale price, to prevent suppliers from buying energy at a greater cost than they are selling to customers.
How Often is the Energy Price Cap Reviewed?
The energy regulator Ofgem reviews and amends the energy price cap twice each year.
The new energy price cap usually come into force in April and October each year, however, the public are typically alerted to the new price cap change two months prior to them coming into force.
For instance, the April price cap is released in February, while the October price cap is released in August.
Why Have Energy Bills Increased So Much in the UK?
There are many reasons for the skyrocketing price of energy in the UK and you may have noticed it's a global issue impacting every country that relies on gas and oil imports.
Due to Russian Gas and Oil being cut from the normal supply, this has led to an international shortage and due to many countries now looking for alternative providers, this has led to a surge in demand and in turn prices.
Unfortunately, the UK is not in a position to rely entirely on renewables like wind power and so the only option is to ride the wave.

In response to the current energy crisis, the UK government recently published their Energy Security Strategy, which outlines how they intend to improve the countries energy mix and decrease reliance on imports over the coming decades.

The proposal includes plans to launch a new licensing round of exploratory gas and oil projects in the North Sea for Autumn 2022.
This will also be in conjunction with a new task force, the Gas and Oil New Project Regulatory Accelerators, providing support to new developments.
The aim of this is to increase the UK's domestic supply of gas and oil and hopefully help ease the current energy crisis.
Searches Associated with History of Energy Price Cap
Here are the most common searches related to history of the energy price cap timeline:
UK energy price cap history
October's energy price cap
How does the energy price cap work
Ofgem price cap per kwh
Energy price cap timeline
Energy price cap 2023
Electric price cap history
Energy price cap calculator
Energy prices UK
New energy price cap