If you live in a rural location, you likely use an oil boiler as your main heating source, since it's likely that you aren't connected to the gas network.
There are many advantages to oil boilers including their reliability and consistent heat output, which is ideal in a country like the UK, which suffers from extreme weather conditions.
But which oil boiler is the best? In this guide we'll explore some of the most popular oil boiler models in the UK, to make it easier to choose one that is ideal for your home.
Here's all the important factors we considered when we drew up our list and ranked the best oil boilers:
Length of the warranty offered by the boiler brand.
Any awards the brand has acquired.
Trust pilot reviews – what do real customers actually think?
Price point.
Aftercare quality.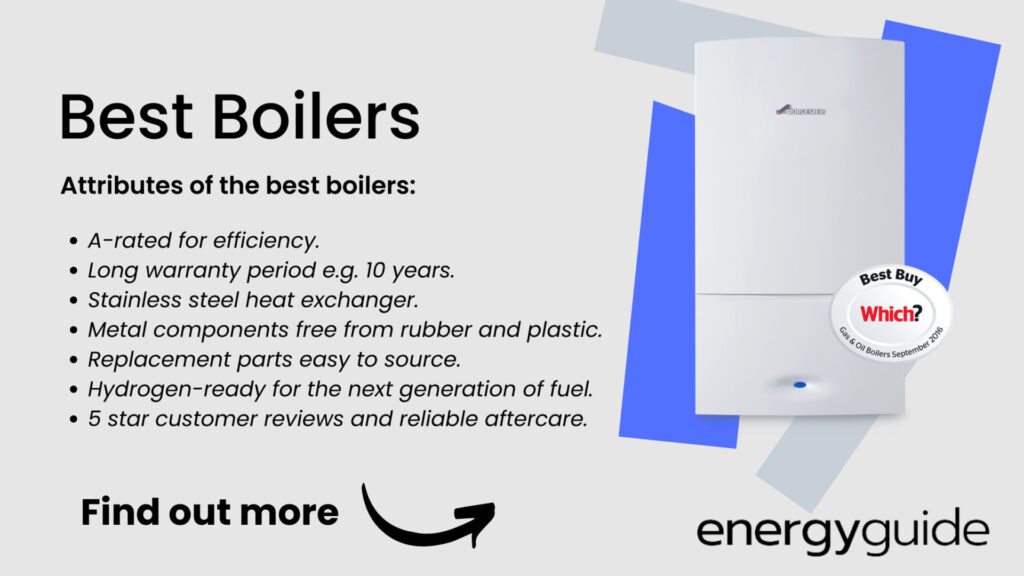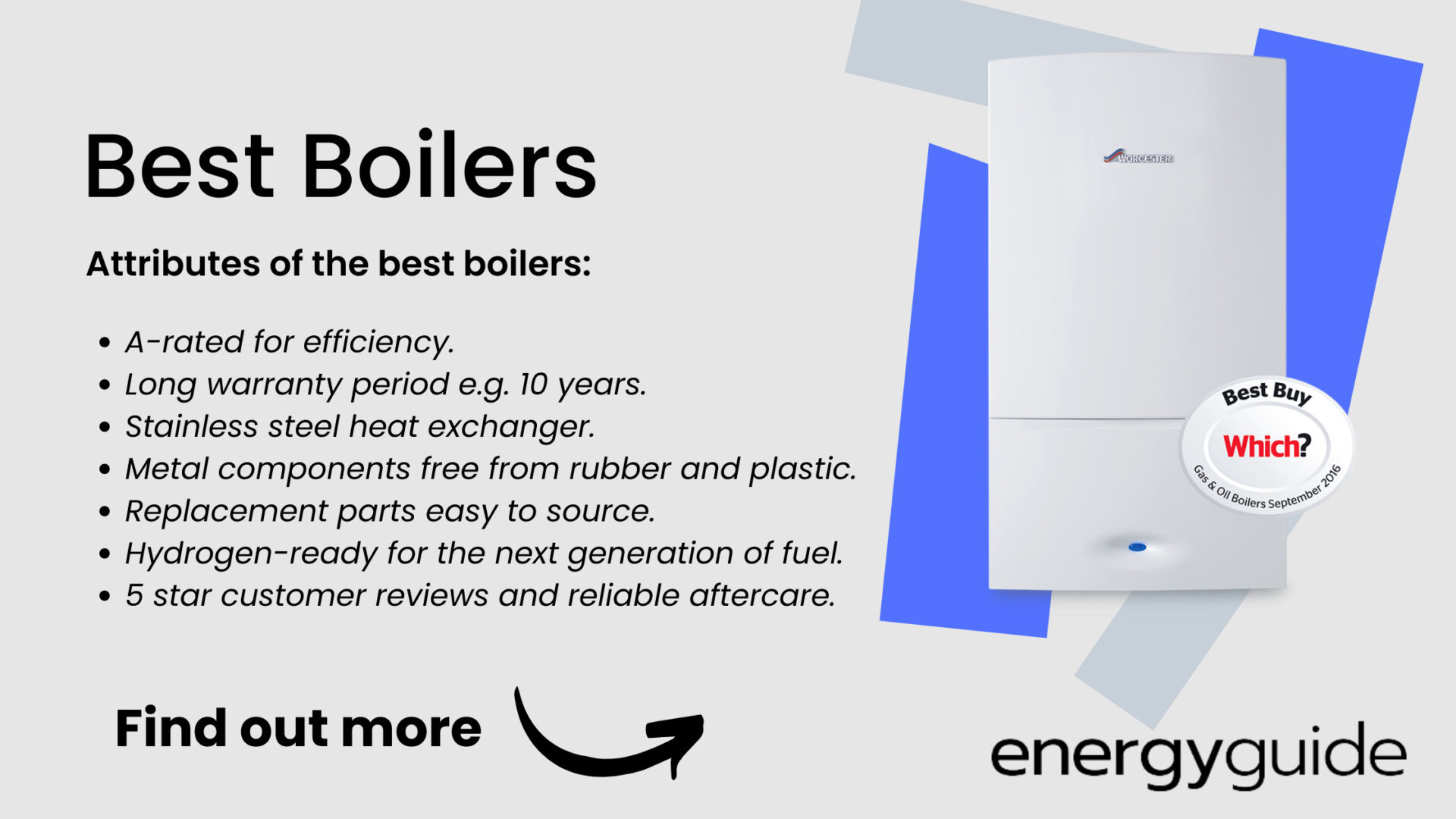 What is the Best Oil Boiler in 2022?
A list of the best to begin, here are our top best oil boiler brands in the UK right now, in 2022:
#1 Worcester Bosch Oil Boilers
#2 Mistral Oil Boilers
#3 Warmflow Oil Boilers
#4 Grant Oil Boilers
#5 Firebird Oil Boilers
#1 Worcester Bosch Oil Boilers (Best oil boilers)
Worcester Bosch is arguably Europe's and the UK's largest boiler manufacturer. Based in Germany, the company was founded back in 1962 and since then has gone from strength to strength.
The brand offers a comprehensive range of boilers including combi, regular and system boilers.
Their most popular oil boiler is the Worcester Bosch Greenstar Heatslave II, an award winning boiler that can be installed either inside the home or externally, making it a superb option for homes of all sizes.
The green credentials of oil boilers is often disputed, but this model by Worcester has been endorsed by the energy charity the Energy Saving Trust.
The Heatslave II is available in a range of power outputs, ideal for households that have varying hot water demands. This range of boilers includes an output option of 18kW, 25kW, and 32kW.
Warranty period: Up to 10 years.
Wondering which boiler manufacturers performed best? Check out our best boiler brands guide for the full rundown and if you are trying to determine who the best boiler installation company is, check out our Warmzilla and Boxt reviews.
#2 Mistral Oil Boilers (Second best oil boilers)
Mistral has over 40 years experience in the manufacture of oil fired boilers and has today evolved as a UK market leader.
Mistral also manufacture combo boilers, but by far their mist popular oil boiler model is the Mistral Standard range.
This range consists of four condensing combi boilers that are suitable for both external or internal installation.
All of these oil boilers are energy efficient and have an output rating of between 15kW and 41kW to suit a range of homes.
Warranty period: Up to 7 years.
#3 Warmflow Oil Boilers (Third best oil boilers)
The Warmflow brand is Northern Irelands go to oil boiler brans and they have been manufacturing a comprehensive selection for over 50 years.
At present, they are the UK's only oil boiler that has received the highest efficiency rating, with a triple-A rating.
What does this mean?
Warmflow most popular oil boiler – the Agentis oil boiler range is able to use 5 litres of fuel less than competitor brands, helping you to save more fuel and money on heating bills.
Warmflow offer their oil boiler in various types of boilers including combi, system and a regular model. Their oil boilers can also be installed indoors or outdoors, offering maximum flexibility
Since the UK government are set on achieving a carbon free society by 2050, Warmflow take their obligations seriously and so they are one of the cleanest oil brands currently available, so if you are looking for the "greenest oil boiler", the Agentis by Warmflow is a superb choice.
In terms of reputation, the brand is also reviewed pretty well by customers and engineers.
For example, they have a very impressive score of 4.4 out of 5 on the third party review platform known as Trustpilot.
Could you be entitled to a grant? Check our oil boiler grants guide.
#4 Grant Oil Boilers (Fourth best oil boilers)
Founded back in 1978, Grant have been innovating domestic heating products for decades are one of the few boiler brands to hold an award and be endorsed by the Energy Saving Trust.
Their Vortex boiler range is particular popular (and the one that has been endorsed). The model is available in a range of different power outputs, ranging from 12kW to 70kW, making it ideal for a variety of sized homes.
The Vortex oil boiler by Grant may be one of the most efficient available and can be purchased as a combi, regular or system boiler. It is also available as an external, internal, wall-mounted or floor standing boiler, meaning that it offers maximum versatility.
The cost of a Grant Vortex boiler start at around £1,400 for the 21kW model (not including installation), so it's by no means the cheapest oil boiler, but it is certainly one of the most reliable. All Grant boilers come with a standard 2 year warranty, which can be extended for additional fees.
Along with Warmflow, Grant has also scored very well on the the review platform Trustpilot, being awarded an average score of 4.6 out of 5, a testament to their quality and excellent customer services.
Did you know the efficiency of your boiler can impact the amount of energy it uses and ultimately impact your heating bill costs? Check out our guide to the best condensing boilers if you are interested to find out more.
You may also find our review of the best eco-friendly boilers of interest.
#5 Firebird Oil Boilers (Fifth best oil boilers)
Firebird are notorious for their high quality designs and excellent customer service, however, they are also well known for their high price point, which may exclude many households in the UK.
Manufacturing oil boilers since 1962, the Firebird brand have earned a solid reputation, even being awarded a royal warrant and supplying boilers to royal residences, such as the Queen's Sandringham estate.
The Firebird Envirogreen boiler range is one of their most popular oil boilers that can be installed as either a standard model or a slimline unit making it suitable for a range of homes.
The Envirogreen is available with outputs including 20kW, 26kW, and 35kW ensuring that all homes can have their needs met by this range.
These are high-performance oil boilers that feature low NOx and Blue Flame Burner features.
Firebird was the first brand in the United Kingdom to provide Blue Flame technology, which has perfected the combustion process to lessen the carbon emissions of the boiler.
Oil Boilers FAQ
Here are some of the most frequently asked questions regarding oil boilers:
What is an Oil Boiler?
Oil boilers are by far the most common off-grid heating system used in the UK, with 850,000 in the UK currently relying on the method as their primary heating source.
They are so common in rural locations as they do not have access to the gas network and so installing or using a gas boiler is not possible.
Instead of having the fuel fed directly to them from the mains supply, oil boilers are fed with oil from a storage tank on-site that feeds the boiler with a consistent supply of fuel.
Once empty the oil tank needs to be replenished by the homeowner, which is usually delivered periodically on-site by a commercial oil supplier.
Just like traditional gas boilers, oil boilers burn the oil to heat water for both heating and to provide an on-demand water supply to taps and other hot water outlets.
Got a common boiler problem? Check out our quick fix guide on boiler lockout, boiler ignition faults, boiler PCB faults, faulty diverter valves and boiler timer issues.
How do Oil Boilers Work?
Similar to a gas boiler, oil boilers are almost identical internally, the only difference is they burn oil, rather than gas to produce the heat to warm the water.
Oil is fed into the boilers combustion chamber where it is combined with oxygen and ignited. Once burning, it produces extremely hot fumes, which in turn heat up the heat exchanger.
The heat exchanger is surrounded by the cold water fed into the boiler via the mains (or a water tank), which is gradually heated as the heat is transferred through the heat exchanger to the water.
This hot water is then circulated through the central heating system to provide warmth for the home and on-demand hot water via hot water outlets including hot taps and showers.
Advantages & Disadvantages of Oil Boilers
Similar to any other type of heating appliance, oil boilers are no different and there are pros and cons, here's a brief summary:
Pros of Oil Boilers
Oil boilers do not need to be connected to the gas network and so are ideal for rural properties that have limited options.
Oil boilers can be installed outside, ideal for properties with limited space for a new boiler installation.
Superior heat output, performance and flow rate – oil boilers, just like gas has a superior heat output when compared to renewables like electric boilers and heat pumps. This means they can provide warmth and hot water more quickly and within a shorter amount of time.
Repairs and maintenance is less chaotic – since oil boilers can be installed outside, they can be accessed and serviced outdoors too, minimising disruption and mess inside the property.
Cons of Oil Boilers
Oil boilers burn fossil fuels that emit a lot of carbon, a major greenhouse gas responsible for global warming, as a result they are not aligned with the UK governments plans for carbon neutrality by 2050.
Since they are not connected to the gas grid, they require an oil storage tank on site, which is expensive to install, this also means deliveries of oil needs to be well timed to avoid loss of service i.e. heat and hot water.
Oil prices fluctuate – oil is vulnerable to to global market and demand for oil, which changes quite regularly, as a result oil boiler owners can expect fluctuations in running costs.
Inferior flow rate – although we have mentioned that the flow rate is superior to electric heating appliances, it is still inferior to the typical gas boiler.
Oil Installation Costs
How much do oil boilers cost to install?
A major consideration of almost any type of heating appliance, whether that be a gas boiler, heat pump or oil boiler are the installation costs.
Ultimately, many factors come into play including the size of the boiler you install, the brand and whether you need an oil storage tank as well. If this is the first oil boiler, it's likely you will to have both installed onto your grounds.
What size boiler is right for your home? If you are thinking about a combi boiler, it is largely determined by the number of radiators in your home.
Check out our complete guide to new boiler installation here if you are wondering about the best type of boiler for your home.
How much may a new boiler cost? Are you considering converting from a conventional to a combi boiler? Use our boiler installation cost calculator to get an estimation.
For the oil storage tank, you can expect to pay between £600 to £1,000 for a brand new tank, however it's also common for oil providers to offer you the option to rent the tanks, so that you can avoid these upfront costs.
The oil boiler itself is a separate cost and just like the storage tank, the cost depends on the size, brand, warranty and more. On average, you can expect to pay between £2,500 and £4,000 for an oil boiler (including installation costs).
Just like getting a new gas boiler installed, it's essential that you check the installer is registered with the official bodies, in the case of oil boilers, this is going to be OFTEC (Oil Firing Technical Association). Checking the status of your installer is easy to verify on the official OFTEC website.
The Future of Oil Boilers
Will oil boilers be banned in the UK?
Low carbon heating for off-grid properties is less clear, but the Government's Clean Growth Strategy (CGS) are very clear that the installation of high carbon fossil fuel heating in new and existing off-gas grid residential buildings will be phased out over the next ten years.
Yet with oil being the most widely used fuel in off-grid properties, used by around 850,000 people nationwide, just how realistic is this proposal?
The UK's trade association for oil heating systems, OFTEC (Oil Firing Technical Association), disputes that switching oil boilers is not viable for off-grid properties.
In May 2020, OFTEC released their plan for the future of off-grid heating in A Strategy for Decarbonising Oil Heated Homes. They believe this can be attained by 2035, by adopting the following low-carbon fuels:
Phase 1 by 2027: 30% blend of biofuel and 70% kerosene.

Phase 2 by 2035: 100% renewable liquid fuel.
OFTEC believes this strategy addresses concerns of both the Government net-zero targets, while offering better outcomes for off-grid households.
It enables households to avoid the large upfront costs associated with replacing their current system and since the fuel network is well established, it will mean the necessary professionals and suppliers is already available to support the change.