Are you looking for a new combi boiler that is both good and cheap?
There's no doubt that any new boiler is a significant cost, typically costing anywhere between £1,000 and £2,500 for both the boiler itself and the professional installation.
But which boiler's are budget friendly? And is it always a great idea to skimp on such an important household appliance, likely going to in use for at least the next decade?
Let's uncover the facts….
See local Energy Guide approved installers we recommend for your job:
Best Boilers Under £1,000 – Quick Takeaways:
In order to determine which boilers are the "best" on offer, we considered the following attributes:

Boilers that come with a long warranty period.
Boilers that are the most efficient.
Boiler's that come with high quality components e.g. stainless steel and free of plastic.
Replacement parts that are easy to source.
5 star customer service and aftercare.

To get an accurate quote for a high quality boiler, you can start your application with Which? approved boiler installers Heatable here.
Best Combi Boilers for under £1,000
What is the cheapest combi boiler you can buy?
First things first, many people start looking for the cost of a new boiler by simply looking at the standalone cost for the boiler itself.
For a standalone boiler, you are looking to pay anything from £500 for a budget model, all the way up to £2,500 for a large, premium, industry leading model.
However, this isn't really an accurate way to determine the true cost of a complete boiler install, since it doesn't include the Gas Safe Installation, which has to be legally carried out by a qualified Gas Safe Engineer.
It also doesn't include any extras required e.g. materials, such as copper, the flue, radiators, smart thermostats and so on.
Therefore, it's important to understand that while choosing a boiler that is budget-friendly may be one way to control the final cost of an install, the standalone boiler cost is not the only factor that is taken into account.
Cheapest boiler models you can buy
As of April 2022, some of the cheapest boiler models you can purchase in the UK include the Ideal Independent boiler, as well as the Glow Worm Compact range.
They start at around £500 to buy as a standalone unit without any other extras.
That's why it's important to consult a credible boiler installation company, so that they can determine exactly what you require and give you an accurate price (including labour).
But, which boiler brand is good and not just cheap? Which boiler brand is offering the best budget friendly boiler in 2022?
We think it's Alpha Innovations….
The Alpha E Tec Series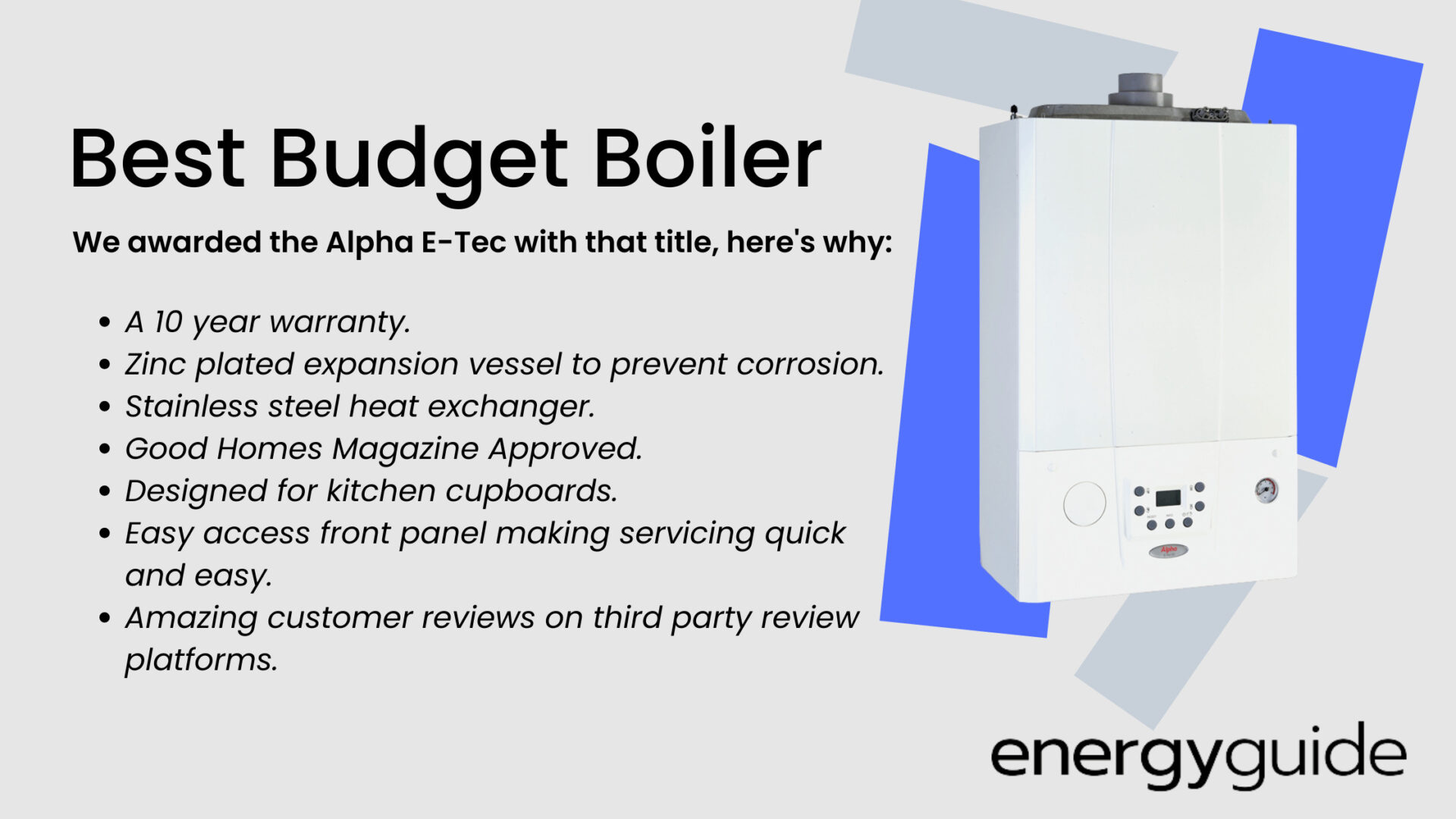 How much is a new boiler installation?
As mentioned, the cost of a new boiler install depends, which is not what most people want to hear but it is the reality.
Here are the various different factors that come into the consideration of any new boiler quote:
The type of boiler e.g. combi boiler, system or heat only.
The brand of the boiler.
The boiler warranty length that comes with the boiler.
If you want the boiler moving to a new location in your property.
The location of the boiler e.g. in some cases scaffolding may be required, which can increase the price.
Any extras e.g. radiator's, pipework, a power flush or thermostats.
Whether it's an emergency call-out or not.
Common Boiler Installation Scenarios
We've discussed some of the cheapest boilers that are currently on offer, but it's important to remember that this isn't the only factor that determines the final cost of a new boiler install.
See local Energy Guide approved installers we recommend for your job:
With that in mind, here are some of the most common boiler installation scenarios and their average costs in the UK:
Straightforward Combi Combi Swap
If you already have a gas combi boiler and you want it replacing with a new combi boiler and in the same location, the good news is that this is considered relatively straightforward and one of the easiest types of boiler installations.
How much does a straightforward combi swap cost?
On average, a combi boiler installation like this will cost between £1,500 and £2,000 depending on the brand, warranty and area you live in.
A Boiler Conversion
If you want a boiler conversion e.g. you want to change from a combi boiler to a system boiler or vice versa this will typically cost more than a standard like for like replacement.
As previously discussed the major reason for this is all the additional components that need to be installed and/or removed e.g. the water tank, header tank etc.
This means it can take more time and labour and cost more in materials.
What size boiler is right for your home? If you are thinking about a combi boiler, it is largely determined by the number of radiators in your home.
Check out our complete guide to new boiler installation here if you are wondering about the best type of boiler for your home.
How much may a new boiler cost? Are you considering converting from a conventional to a combi boiler? Use our boiler installation cost calculator to get an estimation.
How much does a boiler conversion cost?
The average cost of a boiler conversion e.g. swapping from a combi to a system will cost between £1,800 and £2,500.
Back Boiler Replacement
If you have an old fashioned back boiler like the Baxi Bermuda (typically found above the fireplace) this will need to be decommissioned and removed and then a new boiler e.g. a combi boiler installed in a suitable location.
Similar to a boiler conversion, replacing a back boiler takes more time and labour and more materials are usually required.
Additionally, if the back boiler is in a high-up location, scaffolding may be required which can also add to the costs.
Wondering how much a new boiler costs? Check out our guide on options available if you need a new boiler but can't afford it, as well as boilers on finance and government boiler grants here.
How much does a back boiler replacement cost?
The average cost of a back boiler replacement in the UK is between £2,000 and £2,500.
Why are some boilers more expensive?
As discussed, boilers themselves are more expensive for a variety of factors, including the following:
The length of the warranty offered with the boiler.
Reputation of the boiler brand e.g. long-standing, award winning brands are typically priced higher.
From a technical standpoint, they are often superior to cheaper boiler models e.g. they use all metal parts and zero plastic or rubber.
They offer excellent customer service and have a reputation for dealing with repairs fast and efficiently.
Check out our boiler brand price guides and comparisons:
Cheapest Boiler in Summary
As mentioned a cheap boiler is only one aspect of the final cost of a new boiler installation.
Other factors include the type of boiler installation scenario you have, the boiler installation company you choose, whether you opt for an extended warranty and whether its a pre-booked or emergency install.
See local Energy Guide approved installers we recommend for your job:
You can get a better idea of how much a new boiler for your home may cost using our boiler installation calculator.
Lastly, remember that it is always advised that you seek multiple boiler quotes before making a final decision.
Securing at least three boiler quotes is the typical recommendation.