Which boiler brands offer the best floor standing combi boilers in the UK? Here we review some of the best floor standing models on offer.
Floor standing boilers are ideal for certain spaces, but unfortunately they aren't as popular as wall-hung boiler units, so the options available are limited.
However, there are some reliable floor standing boilers available, but which brand offers the best in terms of reliability and a generous warranty period?
In this guide, we'll explore the best floor standing boiler options available (including both combi and regular models), as well as the models you probably want to avoid.
See local Energy Guide approved installers we recommend for your job: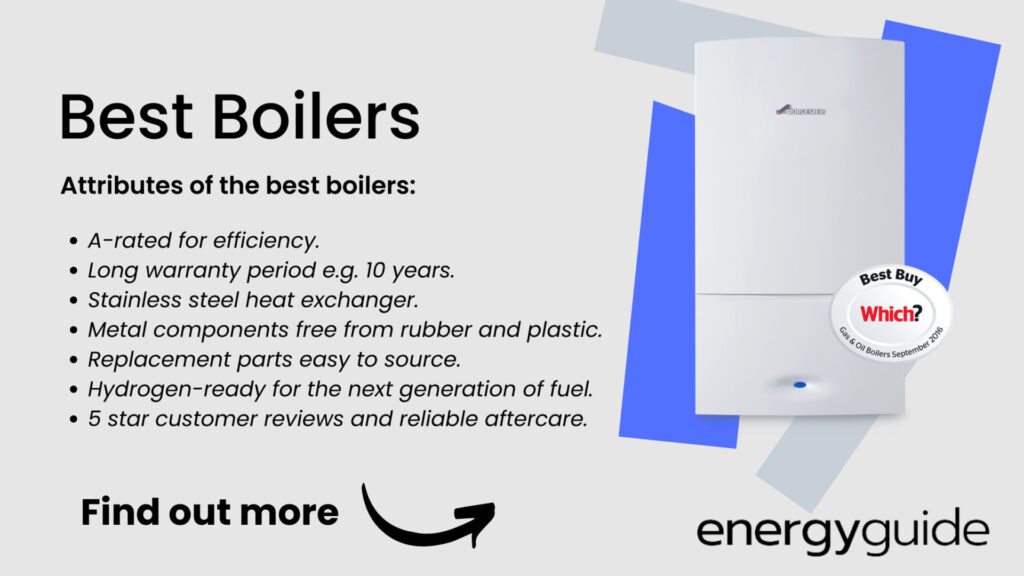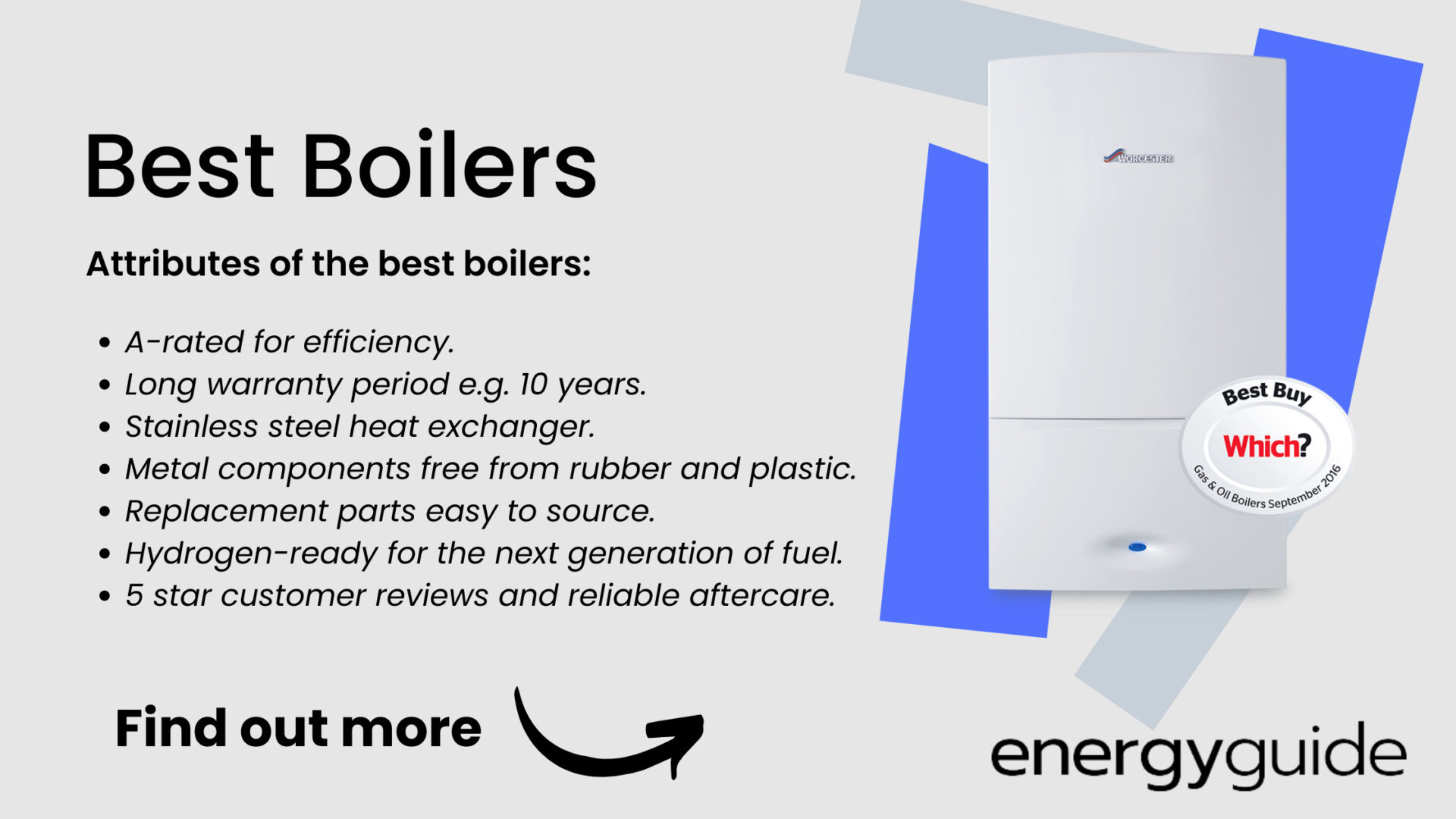 Best Floor Standing Boilers
Best Floor Standing Combi Boilers
If you are looking for the best floor standing combi boiler model, here are our top picks:
#1 Viessmann Vitodens 222-F (Best Floor Standing Combi Boiler)
Viessmann is one of the most renowned boiler manufacturers in Europe who has quite recently made a name for themselves in the UK too.
In fact, consumer organisation Which named them as the "most reliable boiler" some years ago.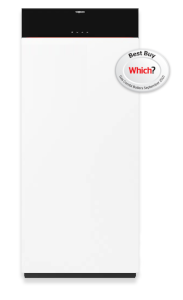 The Vitodens 222-F is a premium option but offers everything you'd expect from a modern combi boiler design including a full colour LED interface and touchscreen controls.
This model also gives you the option to use either LPG or natural gas from the mains.
The model also enables you to use the Viessmann ViCare app on your mobile, allowing you to easily modulate and change their boiler settings remotely and conveniently.
Another advantage of the Viessmann Vitodens 222-F compared to other floor standing boilers and a major reason we placed it in position one is due to its very innovative 100L loading cylinder.
This feature ensures water pressure is well maintained, even on busy morning when multiple water outlets will be used simultaneously.
One major disadvantage of the Vitodens 222-F is it's sheer size, at 600 cm wide and 140 cm high, it's by no means a small or compact boiler design.
Viessmann 222-f Price Guide
The Vitodens 222-F new boiler cost will depend on the power output, but our pricing table provides you with an idea of what you can expect to pay:
| | | | |
| --- | --- | --- | --- |
| Model | Output | Output for DHW Heating | Guide Price |
| Viessmann Vitodens 222-F 19Kw | 19kW | 21.8kW | £2,847 |
| Viessmann Vitodens 222-F 25Kw | 25kW | 28.3kW | £3,084 |
| Viessmann Vitodens 222-F 35Kw | 35kW | 33.5kW | £1782 |
#2 Worcester Bosch Greenstar CDi Highflow 440 (Second Best)
Worcester Bosch is yet another German boiler manufacturer with manufacturing facilities in the UK.
See local Energy Guide approved installers we recommend for your job: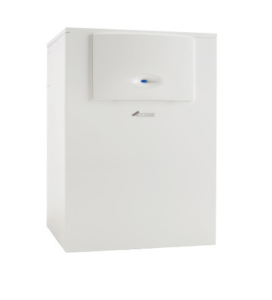 Holding the Which Best Buy award for 10 years running, Worcester's flooring standing combi boiler – the CDi Highflow is more compact than the Viessmann model and will easily fit into kitchen cupboards and other small spaces much more easily.
Just like the Viessmann Vitodens 222-F, it is also able to use both natural gas via the grid or LPG.
Worcester Bosch Greenstar Highflow 440CDi Details
Worcester Bosch 440CDi Price as an estimate: £2,081+ £500-£,1000 for installation.
Band Rating: A.
Efficiency Rating: 92%.
ERP Rating: A heat; B water.
LPG Compatible: Yes.
Mounting: Floor standing.
kW Options: 29kW.
Flow Rate: 20litres per minute.
Worcester Warranty: 5 years standard which can be extended.
Best Floor Standing Regular and System Boilers
Here are our top picks of the best regular and system boiler models:
#1 Worcester Bosch Floor Standing Greenstar 30CDi (ErP) Regular Boiler
If you are looking for a regular floor standing boiler, then the Greenstar 30CDi by Worcester is a superb choice if you are looking for a boiler to keep up with a household with a high hot water demand.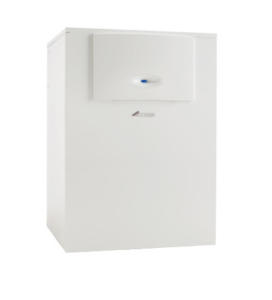 We have also placed this at position one due to it's compact size, at just 400mm wide and 850 high, this boiler is on the small side compared to competitors so if space saving is a top priority this is an excellent choice.
Why else did we choose the Greenstar 30CDi?
It works with Worcester's own smart controls i.e. EasyControl, allowing you to control the boiler settings from afar via your smart phone or device.
It features built-in frost protection to prevent freezing of the waste water pipe during the colder months of the year.
It's also compatible with solar panels, so is a great option if you are considering solar water heating.
What about costs of the Greenstar 30CDi?
Typically, the Greenstar 30CDi floor standing boiler will cost around £1,500 plus installation. It is also available in both LPG or a mains gas model.
Got a common boiler problem? Check out our quick fix guide on boiler lockout, boiler ignition faults, boiler PCB faults, faulty diverter valves and boiler timer issues.
#2 Ideal Mexico HE
Our second recommendation is for a heat only Ideal boiler. Ideal is a British boiler manufacturer established in 1906, who offer a wide range of boiler types along with providing long product warranties and excellent after-sales customer service.
The Mexico HE floor standing range of boilers are available in a choice of power output between 16kW and 38kW, so there is plenty of choice of finding a suitable boiler size for your property requirements. Similar to the Worcester option, the Mexico HE range is also suitable for solar.
#3 Grant 26 kW Spira
Grant has over four decades of experience in designing and manufacturing a range of boilers, initially focusing on oil-fired boilers but have branched out over the years to offer a wide range of boilers, including energy-efficient renewable options.
The biomass boiler that we are recommending is low maintenance, wood pellet fuelled boiler that has an output of 26kW.
The smart unit incorporates self-cleaning heat exchangers as well as an automatic fuel feed and can be located either outside or within a garage or outbuilding.
The A rated boiler is also DEFRA approved so you can be reassured of the safety of the product and the emissions.
Advantages and Disadvantages of Floor Standing Boilers?
Advantages of Floor Standing Boilers
The availability of floor standing boilers on the market ensures that homeowners can replace boilers like for like, reducing the changes required to the pipework.
The powerful boilers produce strong flow rates and are available in eco-friendly versions such as biomass boilers.
Disadvantages of Floor Standing Boilers
Floor-standing boilers require significant space and therefore are not always practical in smaller properties
Although there are a range of manufactures providing some choice to the customer, compared with combi boilers, there are limited options
What size boiler is right for your home? If you are thinking about a combi boiler, it is largely determined by the number of radiators in your home.
Check out our complete guide to new boiler installation here if you are wondering about the best type of boiler for your home.
How much may a new boiler cost? Are you considering converting from a conventional to a combi boiler? Use our boiler installation cost calculator to get an estimation.
What is a Floor Standing Boiler?
A floor-standing boiler is large boilers that are typically too heavy to be mounted to a wall and therefore they stand on the floor.
See local Energy Guide approved installers we recommend for your job:
Floor-standing boilers come in various shapes, sizes and run on a range of different fuel types. There are two main types of floor standing boilers as follows:
Conventional and systems boilers
These boilers are traditional types of heating systems that require a hot water cylinder system and expansion tank in addition to the boiler itself, to be able to work.
Conventional and systems boilers provide both heating and hot water and are typical of large size to provide sufficient energy for larger properties and families, however, due to their size, do require ample space.
In addition, these types of boilers can be powered via multiple energy sources such as gas, oil or LPG.
Wondering which boiler manufacturers performed best? Check out our best boiler brands guide for the full rundown and if you are trying to determine who the best boiler installation company is, check out our Warmzilla and Boxt reviews.
Biomass Boilers
Biomass boilers are often a suitable option for larger properties or rural properties with outside space to be able to accommodate the boiler and the fuel such as renewable organic materials like wood.
Biomass boilers come in various different types; however, they are a highly efficient option for heating water and providing heating as well as being an eco-friendlier choice.
These days most biomass boilers are automatic therefore they provide further energy efficiency by controlling the amount of air and heat required to produce the required amount of heat.
Currently, the installation of an eco-friendly biomass boiler is also supported by the Government's Renewable Heat Incentive scheme or RHI.
Are Floor Standing Boiler's Good?
Floor-standing boilers have reduced in popularity over recent years however this is not due to the efficiency or performance of the boiler itself, but more due to the amount of space that floor standing boilers require.
In the UK we tend to build small sized properties and therefore floor standing boilers are typically not suitable in modern homes however if you desire a biomass boiler for example, floor standing is your only option!
Did you know the efficiency of your boiler can impact the amount of energy it uses and ultimately impact your heating bill costs? Check out our guide to the best condensing boilers if you are interested to find out more.
You may also find our review of the best eco-friendly boilers of interest.
Can you get a Floor Standing Boiler Combi Boiler?
Yes, floor standing boilers are still available on the market, and if you are looking to replace a current floor standing boiler it is often more economical to replace a boiler with the same type so that pipework changes are kept to a minimum during installation.
What are the Best Floor Standing Regular Boilers?
Despite the size of floor standing regular boilers, there is still a demand for them and therefore a wide range of floor standing boilers available on the market.
Best Floor Standing Boilers Summary
There are still quite a number of floor standing boilers available on the market, with a choice in manufacturer, fuel types and differing in size and power outage.
The boiler brands we have discussed during this article are all top players in the boiler industry providing a good selection of boilers as well as warranties and customer service for their products.
Eco-friendly boiler models of floor standing boilers are also available, providing the eco-conscious customer with an option, as well as the biomass boilers being elidable for government grant funding.
If you would like any further advice regarding floor standing boilers and their suitability for your property and usage, please seek the expert advice of a heating engineer.