Do you want a new boiler that comes with a decade long warranty period? Who offers 10 year boiler warranties? Here we compare.
Who doesn't? But be careful as not all boiler manufacturers offer it as standard.

A 10 year warranty or guarantee is far from standard in the UK boiler market, but it is certainly a huge benefit, especially when you consider the average lifespan of a boiler is around 10 years.

Ensuring you get a boiler with such a lengthy warranty will ensure you are protected from boiler breakdown and repair costs for years to come.

But which boiler brands offer their boiler's with such a long warranty period? In this article, we'll look at some of this years most attractive boiler deals.
Boilers with 10 Year Warranty Periods
As explained, most boiler manufacturers in the UK do not offer a 10 year warranty or guarantee across their entire range of boiler models.

Regardless of the brand, the length will typically depend on the model you choose and they can range from a measly 2 years to a very generous 10 years.
However, with that said some boiler installation companies do package only the models that are offered at 10 years as standard i.e. they avoid any boiler that comes with a warranty under that length.

This can make buying a new boiler with a 10 year warranty a little easier. Such companies include Heatable UK.
See local Energy Guide approved installers we recommend for your job:
What is a boiler warranty?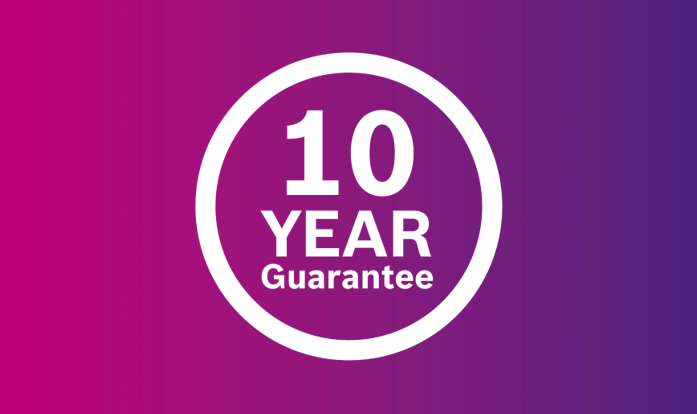 In simple terms, a boiler warranty is a contract from the boiler manufacturer, issued to the customer, promising to repair or replace it if necessary, within a specified period of time.
So this essentially means that if a manufacturing fault occurs during the period, the boiler brand will come and repair it as soon as possible, typically for free. If they can't repair it, they will then replace the boiler.

However, it's important to note that labour costs are not always included and often brands expect you to pay an excess fee for the callout.
This is why it's essential to secure a boiler warranty for the longest possible length, as it provides you with the peace of mind that you won't be left alone trying to fix the boiler and trying to find someone to do so in an emergency. Not ideal in the depths of winter.
Boiler Warranty vs Guarantee

Some boiler brands market themselves as offering a boiler guarantee, rather than a warranty, but is there actually any real difference?

Legally, yes, there is indeed a subtle and important difference.
A guarantee is an agreement that the boiler manufacturer will come to your home to repair or replace the boiler unconditionally if related to a manufacturing fault.
While a warranty is a contract to only investigate the problem, but not an agreement to necessarily fix the boiler free of charge.
As a result, a guarantee is seen as the superior choice among many, so is certainly worth remembering.

So who offers a guarantee rather than just a warranty? Currently Worcester Bosch only.
Who Offers the Best Boiler Warranty?


Currently Worcester Bosch offers a 10 year guarantee (not a typical warranty). Most of their boilers also come with a 10 year warranty too, so if that's two major factors in why we've concluded they currently offer the best 10 year boiler warranty deals.
| Boiler Manufacturer/brand | Warranty Period (Years) | Guarantee or Warranty? |
| --- | --- | --- |
| Viessmann | 5-10 years | Warranty |
| Ideal | 5-10 years | Warranty |
| Worcester Bosch | 5-10 years | Guarantee |
| Vaillant | 5-10 years | Warranty |
| BAXI | 3-10 years | Warranty |
Boiler Warranty Conditions of Cover
Something that many people forget is that a boiler warranty isn't simply a "set and forget" situation.

In fact, in order to keep your boiler's warranty or guarantee valid for the full term of the contract, you will need to abide by the conditions of cover.

These terms can vary depending on the brand and model, so it's always worth reading the fine print for your exact boiler model, however, in general, you will need to do the following in order to keep your warranty valid:
Ensure the warranty is registered within 30 days of installation, sometimes the installation company will do this, but it's worth checking.
Have the boiler serviced every 12 months by a registered Gas Safe Engineer.
Only ever have the install, repairs and servicing carried out by a registered Gas Safe Engineer.
Never adapt the boiler or attempt to use it outside it's specifications.
Never attempt to open or repair the boiler yourself.
If you have any questions or concerns about your boiler warranty, you can always ask the manufacturer. If you forget to register your warranty, most companies will have a small window where they may allow you to register still register the boiler and keep your boiler warranty valid.