Can you install a boiler in your loft? What are the limitations and what should you be aware of? In this guide we answer all of the most frequently asked questions.
In most homes, space is a luxury that is highly coveted. With the recent explosion of minimalism and Scandinavian-esque interior design becoming popular, many people have been left inspired to remove the clutter from their home and create a functional, clear space.
Moving boilers from off the walls and out of cupboard spaces and into a loft space can really help to open up the home and hide any unsightly pipes and bulky units.
This is now easily achievable for most people; and although it can be costly, it is usually worthwhile, especially if your home lacks a decent amount of space.
See local Energy Guide approved installers we recommend for your job: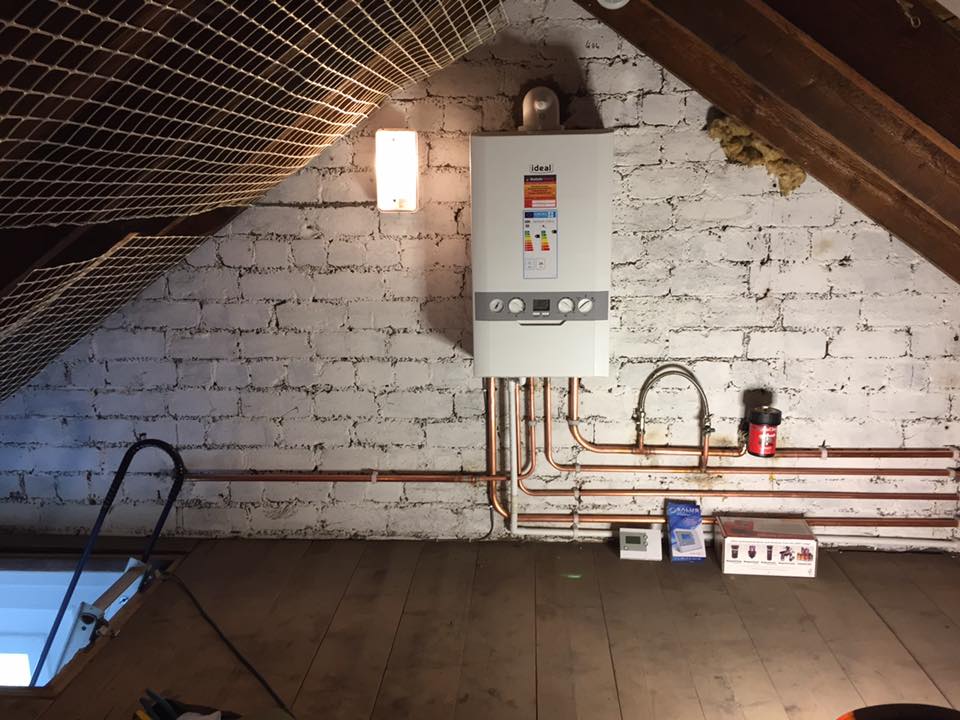 In this guide we will discuss the regulations that are important to keep in mind, as well as the advantages and disadvantages that are worth considering before you decide to move your boiler into the loft.
Wondering which boiler manufacturers performed best? Check out our best boiler brands guide for the full rundown and if you are trying to determine who the best boiler installation company is, check out our Boiler Central, Warmzilla and Boxt reviews.
Can You Install a Boiler in the Loft?
Boiler Loft Regulations to consider
Generally, if you can plumb the gas and water terminals effectively, vent the combustion gases, and allow the unit to condensate, then there is no reason as to why a boiler cannot be installed in the loft.
There are, however, regulations that must be adhered to when installing a boiler in the loft.
It must be a place where engineers are able to easily access the boiler for maintenance and repairs – this also means that the flooring in your loft must be secure and spacious enough.
As well as this, the loft should be well-lit and have a ladder with a guard rail for access.
It is also important that you choose a qualified and Gas Safe registered engineer who will be able to ensure that electric, gas and water isolation points are possible, and will be able to install the boiler and carry out any future maintenance with ease.
You can find a trusted trader on many comparison websites online including checkatrade.com – here you are also able to check customer reviews and view any necessary qualifications.
How much does it cost to install a new boiler?
A brand-new boiler can cost anywhere from £500 to £2,500 in the UK. This will depend on the type of boiler; conventional are cheaper, combi boilers will cost slightly more, and a brand-new biomass boiler can rack up costs of up to £13,000.
If you are moving your boiler from a downstairs location or an airing cupboard, it can be costly. The more tricky and time consuming the move, the more it will usually cost you in installation fees.
If you want to move a boiler to a completely new company, you may want to look into seeking a quote from a local moving company.
London based moving company Whatmanandavan.co.uk say that this costs around £600 on average, depending on factors like size and location.
You will also need to consider accessibility. If you usually control the boiler from dials on the actual unit, then you may want to consider changing to a wireless room thermostat, which will save you the time and effort of climbing into the loft any time you want to change the heating settings.
See local Energy Guide approved installers we recommend for your job:
Did you know the efficiency of your boiler can impact the amount of energy it uses and ultimately impact your heating bill costs? Check out our guide to the best condensing boilers if you are interested to find out more.
You may also find our review of the best eco-friendly boilers of interest.
Boiler in Loft Pros and Cons:
Advantages of installing a boiler in the loft
Saving space
One of the most common reasons that people move their boilers into the loft is because of the space saving benefits this provides.
Moving a boiler out from a cupboard allows you to utilise that cupboard for other things, which can even result in more floor space if you find that the cupboard no longer serves a purpose.
More attractive home
Another advantage of moving a boiler to the loft is that it can help to improve the aesthetics of the home.
Not only can you hide all the unsightly pipework that surrounds the boiler, but you can free cupboard and wall space.
This is especially important for those who enjoy a clean, minimalistic home without bulky units that are visually unattractive.
Wondering what size boiler you may need in your loft?
Disadvantages of installing a boiler in the loft
Inconvenient
As we have already mentioned, if your boiler is in your loft, it can be inconvenient to check the pressure regularly.
Whilst this shouldn't be a common occurrence, it can be annoying when it does happen.
To combat this, it is often a good idea to install a pressure gauge at a more accessible location within the property.
Taking this measure, along with switching to a wireless controlled unit, can ensure that you only need to physically access the boiler for maintenance or if something should go wrong.
Got a common boiler problem? Check out our quick fix guide on boiler lockout, boiler ignition faults, boiler PCB faults, faulty diverter valves and boiler timer issues.
Temperature damage
One major issue that needs to be highlighted is that moving your boiler away from the warmth of your home and into a cold loft can cause damage to the unit.
To avoid this, it is vital that you future-proof your loft space in order to prevent this damage from occurring.
Frost damage can be extremely detrimental to a boiler unit, and so ensuring you have sufficient insulation is highly recommended.
The opposite issue can arise during the summer months, where the loft can become a heat trap.
This can massively reduce the efficiency of the unit and affect its performance; so, it is important that you consider ways in which to regulate heat in the loft throughout the whole year.
What size boiler is right for your home? If you are thinking about a combi boiler, it is largely determined by the number of radiators in your home. Check out our complete guide to new boiler installation here if you are wondering about the best type of boiler for your home.
See local Energy Guide approved installers we recommend for your job:
How much may a new boiler cost? Are you considering converting from a conventional to a combi boiler? Use our boiler installation cost calculator to get an estimation.
Performance
Something else to consider is the performance of the boiler unit. The further the distance between your boiler and your hot water outlets, the more likely the performance of the boiler will be affected.
This can result in slight delays to kitchen and bathroom taps. This should only be very slight, but it is something that is worth considering if you have a large home or tend to use a lot of hot water at once.
Find out what boiler brands ranked best in our review of the best condensing boilers.
Installing a Boiler in the Loft Summary
If you are looking to create more room in your own home, we highly recommend thinking about moving your boiler into the loft or getting a new one installed there.
Whilst there can be some disadvantages to moving your unit, the benefits can really make a difference in terms of space and aesthetics.
If your boiler is over 7 years old and no longer efficient, you could even be eligible for a Government boiler grant that can cover the cost of a replacement boiler – this would be a perfect opportunity to have a new boiler installed in your loft and allow you to begin really utilising the space in your home.