If you are looking for a new boiler for your home, it's likely that you are trying to determine which boilers are the "best", here we define the best in terms of the attributes to look for.
Unfortunately, boilers do not come cheap and therefore, homeowners will often be looking to secure the best boiler deal they can find, yet other factors like the length of the boiler warranty and reliability of the combi boiler are just as important for long term peace of mind.
So which boiler brands offer the best boiler models and why?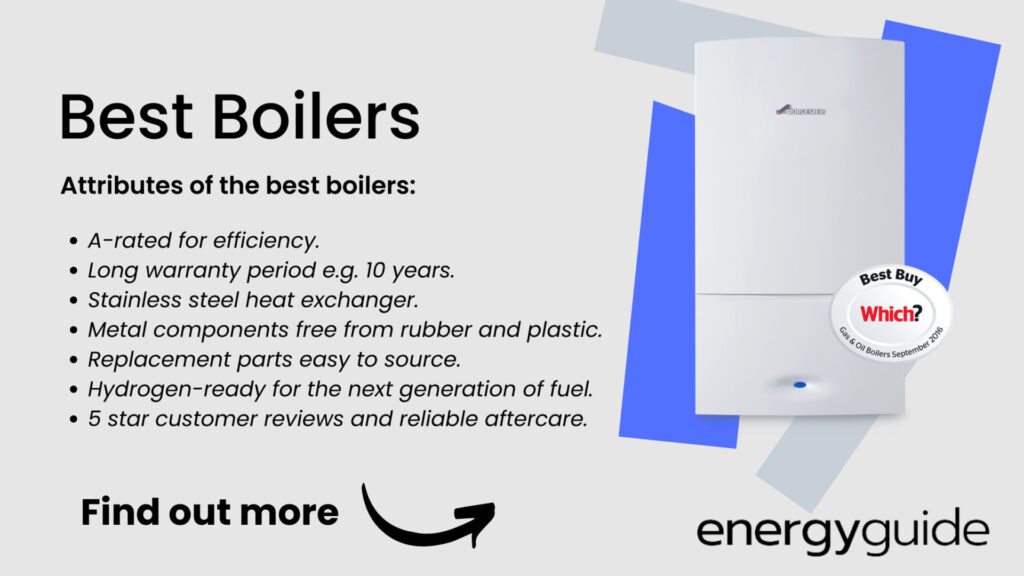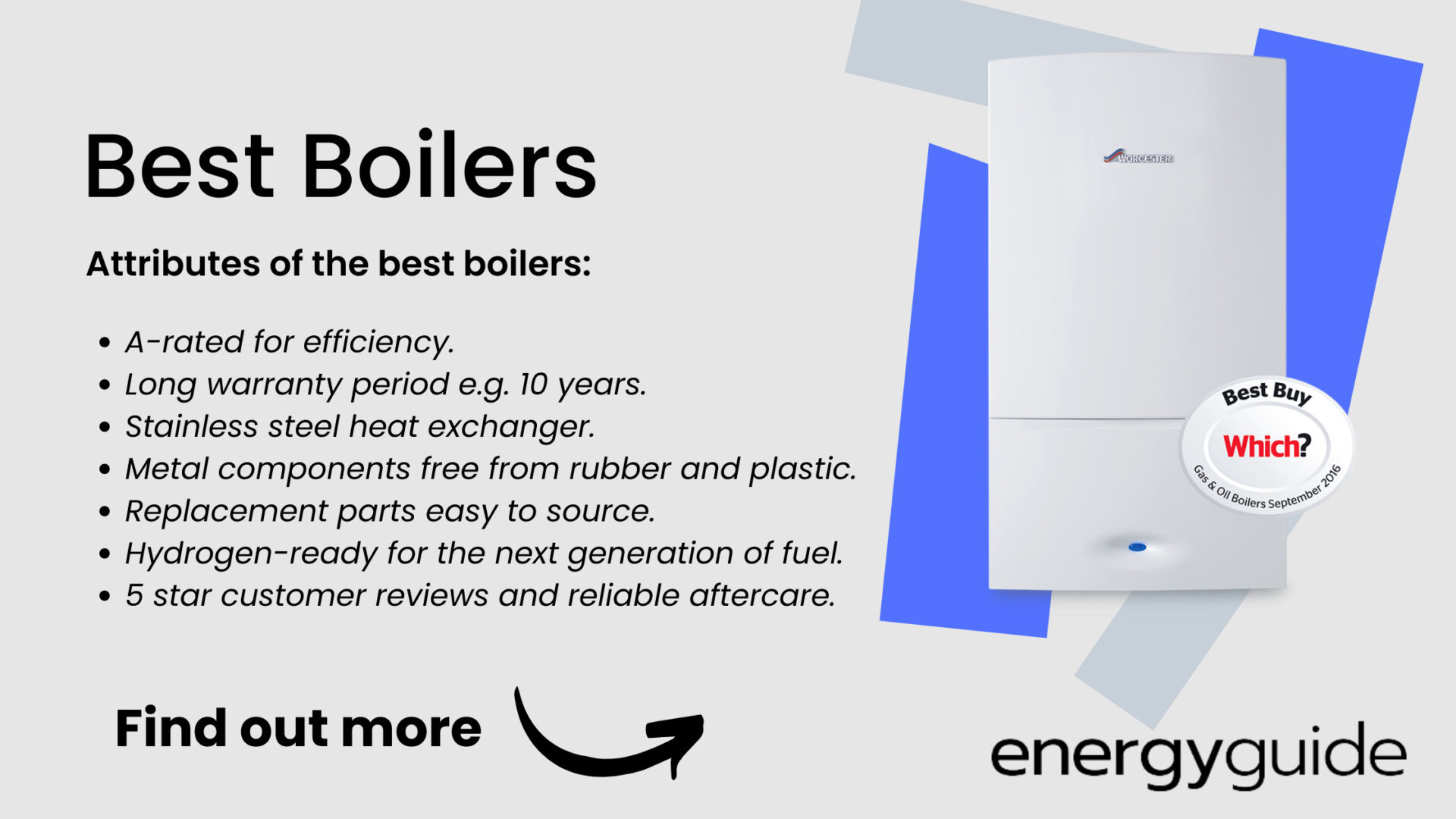 Best Boilers UK – Quick Takeaways:
Based on the attributes of the best combi boilers in the above infographic, we have determined that the best combi boiler models in 2023 are as follows:
Find out how much you could save with a new boiler:
Viessmann Vitodens 100-W (Best Boiler Overall)
In our view, the best combi boiler for homeowners looking to secure a reliable and award winning combi boiler is the Viessmann Vitodens.
Viessmann is an award winning brand that offer the most reliable and high quality gas combi boiler range that come with a generous 10 year warranties and superb aftercare.
The Viessmann Vitodens was recently updated and now features a user-friendly LCD display.
This boiler is also class A rating for efficiency and features a back-lit LCD display, as well as a low fan speed for quiet operation.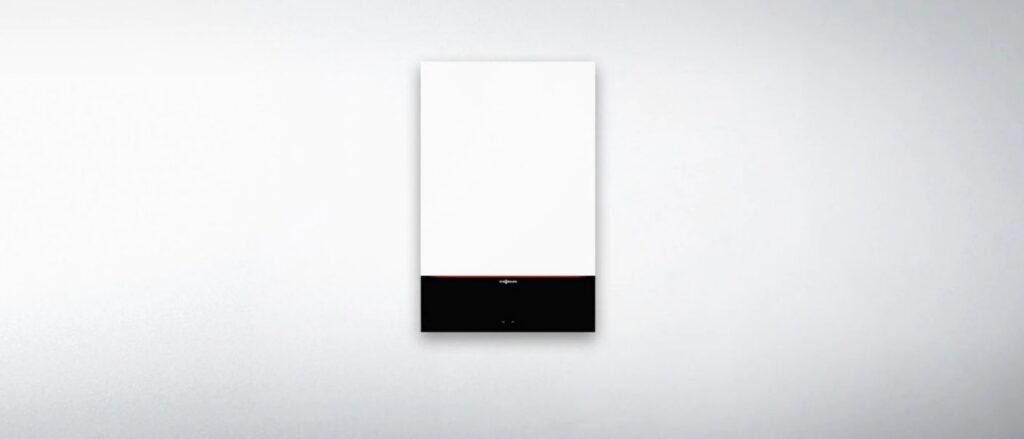 Why do we think Viessmann offers the best boilers?
Which? Best Buy Award winner – titled as the UK's "most reliable boiler".
State of the art German engineering – no plastic or rubber components (like some competitors).
Patented Inox Radial Stainless Steel Heat exchanger (not aluminium found in other boiler brands).
The only boiler with Lamda combustion control – maximising efficiency.
Hydrogen ready – for the next generation of fuel.
Availability of parts is superb.
Excellent customer reviews and aftercare.
Viessmann Vitodens 200-W Key Info:
| Statistic | Viessmann Vitodens 200-W |
| --- | --- |
| ErP rating (heat & water) | AA |
| Decibels | 51 |
| ErP efficiency | 98% |
| Kilowatts | 35 |
| mg/kWh of nitrogen oxides | <39 |
| Size (mm) | 850 x 450 x 360 |
| Weight (kg) | 48 |
| Price | £1,749.98 |
Data checked and updated November 2023.
Alpha E Tec (Best Value Boiler in the UK)
If you are looking for a boiler that offers maximum value for money, then the Alpha E Tec is a superb option.
Alpha Innovation offer the best value for money in terms of price point and a hefty 10 year warranty.
The Alpha E Tec also utilises a steel heat exchanger, which is unheard of amongst budget boiler brands.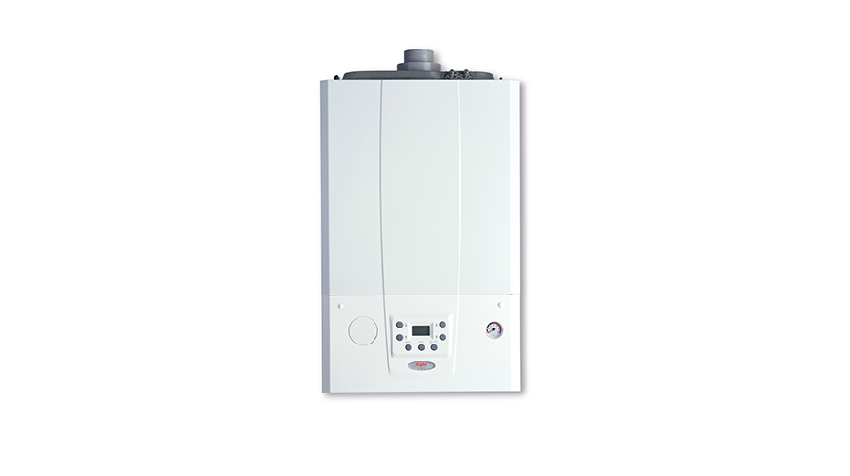 Why else do we think Alpha boilers are a superb option?
Good Homes Magazine Approved (2021).
Also offer a 10 year warranty.
Superior parts and design at an affordable price.
Choosing a Boiler Installer
There are many online boiler companies selling combi boilers, often they will be promoted a myriad of different boiler brands of different sizes and with different features, which can result in information overload.
In this guide, we will discuss the process of how to choose a combi boiler including the most important factors to consider, as well as reviewing the best combi boilers available on the market at present.
Find out how much you could save with a new boiler:
Wondering which boiler manufacturers performed best? Check out our best boiler brands guide for the full rundown and if you are trying to determine who the best boiler installation company is, check out our Warmzilla and Boxt reviews.
How should I Choose a Combi Boiler?
Combi boilers are very popular these days as they are compact and efficient units that provide both heating and hot water without the need for a water tank.
There are a range of factors that will need to be considered when choosing a combi boiler, including the following:
The size of the property including the number of bathrooms.
The number of residents.
The water pressure available in your area.
The amount of space available for the boiler unit itself.
Combi boilers are most suited to smaller residential properties with only 1-2 bathrooms. If the property size is bigger than this some combi boilers may struggle with water pressure issues when, for example, more than one bath or shower is being utilised at the same time.
Another factor when looking to install a combi boiler is what existing heating system is in place.
For example, if there is a back boiler or water tanks in place, these would need to be decommissioned and removed, which will increase the costs of a new boiler installation.
Also, if there are changes required to the system pipework, there would be further additional costs.
Straight forward boiler installations, for example, installing a like for like combi-boiler in a smaller residential property could be fairly easy to organise via an online boiler supplier for example.
However where there are changes required as discussed above it would be worth seeking the advice of a qualified heating engineer in order to get an accurate assessment.
Did you know the efficiency of your boiler can impact the amount of energy it uses and ultimately impact your heating bill costs? Check out our guide to the best condensing boilers if you are interested to find out more.
You may also find our review of the best eco-friendly boilers of interest.
Which are the Best Combi Boiler Brands?
In order to shortlist our top three combi-boiler recommendations, we have compared the following factors:
Boiler warranty length offered by the manufacturer.
The overall brands' reputation.
Previous customer reviews on platforms such as Trustpilot.
Boiler price ranges and value for money.
Boiler specifications and performance.
Energy efficiency ratings.
Reliability levels, calculated from the numbers of issues raised with recently fitted boilers.
Brands that receive the most industry awards.
Customer aftercare service performance.
---
#1 Viessmann Combi Boilers (Best)

Our second position goes to Viessmann who is a German boiler manufacturer that has been dominating the European boiler market for some time and is now growing in popularity within the UK too.
Viessmann produces high-quality boilers at competitive prices and also offer long product warranties also.
The Viessmann boiler model that we would recommend is the Vitoden 050-W gas combi-boiler.
This popular and award-winning boiler model is available in two different power output options, produces low C02 emissions while having an A-rated energy efficiency score.
Warranty period: up to 10 years.
Hydrogen-ready? Yes.
Stainless steel heat exchanger? Yes.
Plastic components or rubber? Latest 2023 models – no.
---
#2 Worcester Bosch (2nd Best Combi Boilers)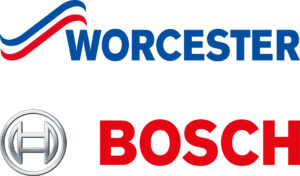 Our first position goes to Worcester Bosch who are well established UK brand that produces prestigious and sought-after boilers.
The company have a great reputation within the boiler industry for producing quality boilers, and they have even won awards along the way while also provide a high level of customer service and aftercare to their customers.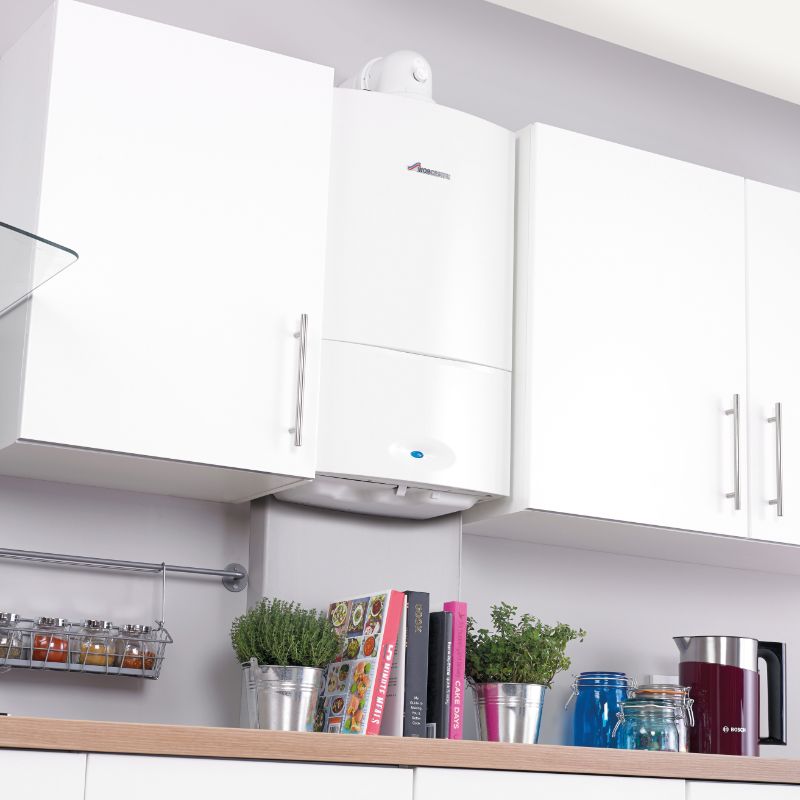 Worcester Bosch manufacturer a wide range of boilers, across most boiler types and keep good availability of parts should replacements be required.
Got a common boiler problem? Check out our quick fix guide on boiler lockout, boiler ignition faults, boiler PCB faults, faulty diverter valves and boiler timer issues.
Find out how much you could save with a new boiler:
In addition, the company is well-known for offering long product warranties, sometimes up to 10 years, which provides additional reassurance and peace of mind to customers.
Worcester Bosch boilers do often price up as a little more expensive than some of the competitor models however as we have seen, the benefits of the quality of the boiler and after-sales provided, grant Worcester Bosch as our top recommended boiler manufacturer.
The Worcester Bosch combi-boiler model that we would recommend is the Greenstar i, which happens to be the manufacturer's top-selling boiler.
The model receives great reviews online and has a great reputation for reliability as well as energy efficiency.
This combi-boiler is available in two options of power output; 25kW and 30kW depending on the requirements of the property and the household, and yet is compact in size and has easy to use simple controls.
Warranty period: up to 10 years.
Awards: Which Best Buy Award.
Hydrogen-ready? Yes.
Stainless steel heat exchanger? Yes.
Plastic components or rubber? Latest 2023 models – no.
What size boiler is right for your home? If you are thinking about a combi boiler, it is largely determined by the number of radiators in your home.
Check out our complete guide to new boiler installation here if you are wondering about the best type of boiler for your home.
How much may a new boiler cost? Are you considering converting from a conventional to a combi boiler? Use our boiler installation cost calculator to get an estimation.
---
#3 Alpha Innovation Boilers (3rd Best Combi Boilers)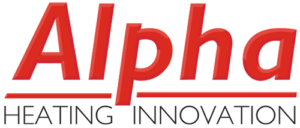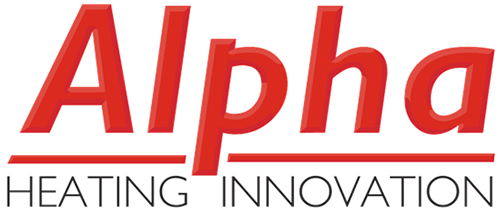 Alpha Innovations domestic gas boilers are excellent from a technical perspective, especially when you consider their price point.
For example, some of the leading boiler manufacturers do not use all metal components or a more durable stainless steel heat exchanger, but Alpha does, yet is more affordable, so it definitely deserves some kudos for that achievement.
Their most popular gas boiler is the Alpha E-Tec, which typically comes with a 5 year warranty, but if you buy it from one of the boiler installation companies online, like Heatable, you can secure a very generous 10 year warranty.
Warranty period: up to 10 years.
Awards: Good Homes Magazine approved (2021 only).
Hydrogen-ready? Some models.
Stainless steel heat exchanger? No, aluminium.
Plastic components or rubber? Some models do.
---
#4 Vaillant Boilers (4th Best Combi Boilers)


Vaillant is granted our third place for boiler manufacturer recommendations and is an award-winning German company that produces high quality and highly efficient boilers.
In addition to the standard of the boiler, Vaillant also offers long product warranties and have good availability of parts should replacements ever be required.
The Vaillant combi-boiler model that we would recommend is the ecoTEC exclusive.
Similar to our other combi-boiler recommended, this model also comes in two output options depending on the property and household requirements however the options are more powerful than the rival brands, which makes this combi-boiler suitable for slightly larger properties or those households with higher hot water demands.
In order to achieve the powerful results from the ecoTech exclusive, high water pressure to the property will be required.
As the name suggests, the model is more eco-friendly than others available on the market and is built using 85% of recycling materials, as well as securing an A-rated energy efficiency score.
Warranty period: start at 5 years.
Awards: Which Best Buy Award.
Hydrogen-ready? Some models.
Stainless steel heat exchanger? Yes.
Plastic components or rubber? Latest 2023 models – no.
Recommended reading:
Best Combi Boiler Summary
We appreciate that the boiler market can appear crowded at a first glance, however, hope that this guide has helped simplify the options by summarising the top combi-boiler manufactures, as well as exploring each brand's most celebrated boiler models.
When assessing our recommendations, we reviewed the brand's reputation, customer reviews, boiler prices as well as the other factors such as the warranty lengths offered by the manufacturer.
Further reading: