Are you wondering what the best outdoor boilers available in the UK are? Here we explore the best available models, pros and cons.
Typically, people look for an outdoor boiler (also referred to as an external boiler) solution if they have limited space or when they already have one installed on their property.
In the UK, most gas combi boilers are designed for indoor use and those outdoor units are typically oil boilers or biomass boilers.
However, there are a few external or outdoor boiler models available in all of the most popular fuel types including natural gas, LPG, propane and oil.
See local Energy Guide approved installers we recommend for your job:
So, who provides the best outdoor combi boiler in the UK?
Let's dive in…
Can you put your boiler outside?
If you already have your boiler installed inside your property, it will most often be more financially wise to replace it in the same location, or close by.
However, if you are determined to have an external or outside boiler it is possible, but the reality is that it will be more expensive than your typical gas combi boiler installation.
It's also worth noting that the boiler options available to you will be much more limited.
In fact, in terms of gas combi boilers, most leading brands don't offer a wide range outdoor boilers, if at all.
Of course, if you are referring to oil boilers, or biomass boilers, then there are indeed a wider selection of outdoor boiler models available.
If you are specifically looking for an oil boiler or biomass boiler, we suggest you refer to our complete guide on oil boilers, or biomass boilers.
Are Outdoor Boilers a Good Idea?
Can you install a boiler anywhere, including outdoors?
In theory yes you can, as long as it's in accordance with building regulations (your Gas Safe Engineer will be able to provide more guidance on this).
It's worth noting that if you do have limited space, then it's worth remembering that boilers can be installed in a range of areas in the home that you may not have considered, these include the following:
The attic or loft.
The garage.
A kitchen cupboard (there are many compact gas combi boiler models now available).
Best External Boilers in the UK
Here is our top list of the best external or outdoor boilers in the UK.
See local Energy Guide approved installers we recommend for your job:
In order to compile our list, we considered the following factors:
Length of the warranty offered by the boiler brand.
Any awards the brand has acquired.
Trust pilot reviews – what do real customers actually think?
Price point.
Aftercare quality.
Greenstar Heatslave II External Boiler (Best Outdoor Boiler)
Worcester Bosch is arguably Europe's and the UK's largest boiler manufacturer.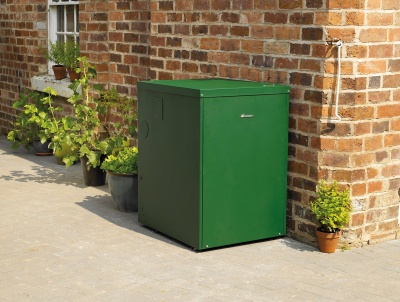 Based in Germany, the company was founded back in 1962 and since then has gone from strength to strength.
Their most popular oil boiler is the Worcester Bosch Greenstar Heatslave II, an award winning boiler that can be installed either inside the home or externally, making it a superb option for homes of all sizes.
The green credentials of oil boilers is often disputed, but this model by Worcester has been endorsed by the energy charity the Energy Saving Trust.
The Heatslave II is available in a range of power outputs, ideal for households that have varying hot water demands. This range of boilers includes an output option of 18kW, 25kW, and 32kW.
Warranty period: Up to 10 years.
Precise heating and hot water control.
Green powder coated cabinet blends in with your garden and protects the boiler from the elements.
Built-in frost protection.
Mistral Outdoor Combi Standard (Second Best Outdoor Boiler)
Mistral has over 40 years experience in the manufacture of oil fired boilers and has today evolved as a UK market leader.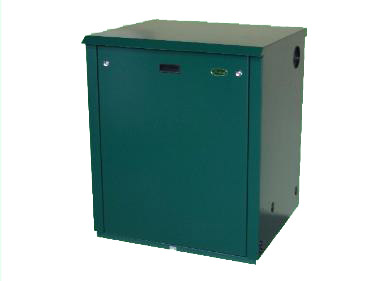 Mistral also manufacture combo boilers, but by far their mist popular oil boiler model is the Mistral Standard range.
This range consists of four condensing combi boilers that are suitable for both external or internal installation.
All of these oil boilers are energy efficient and have an output rating of between 15kW and 41kW to suit a range of homes.
Warranty period: Up to 7 years.
Corrosion resistant external boiler case.
Flue can be installed in multiple directions.
Built-in frost protection.
Advantages of Outdoor Boilers
If you are already looking for an outdoor or external boiler, you're probably already aware of the benefits, but here is a quick summary:
Space Saving
Having your oil boiler installed outdoors means that it's not inside, helping to free up much needed space. It's also ideal for properties with limited space.
Ease of Servicing & Maintenance
Having your boiler outdoors also means that Gas Safe engineers or OTEC engineers do not require access to the inside of the property.
This is a huge advantage over having your boiler indoors as it means you won't need someone to stay at home or take time off work.
Disadvantages of Outdoor Boilers
Unfortunately, there are also some disadvantages to outdoor boilers, which include the following:
Prone to Corrosion
Like any metallic object outdoors, it will be exposed to the elements and vulnerable to the development of rust and corrosion.
The good news is that most outdoor/external boilers do come with an external panelled structure designed to keep it insulated and protected from the elements.