Do you want to know exactly which electric heater is the best to use in your conservatory? In terms of both running costs and efficiency?
When you need to unwind during the summertime, the conservatory is one of the best places to be in.
The conservatory is a perfect spot to unwind and rest because of the plants and the scenery, not to mention the warmth.
However, the primary issue with conservatories in the cold season is that they are typically one of the coolest rooms in your home.
Furthermore, most conservatories are constructed with a lot of glass, which quickly starts to lose heat and is not insulated nearly as well as the rest of the house.
There are various variables that should be kept in mind while making a purchase for electric heaters such as how you intend to use it, where abouts and for how long.
It's important to remember that gas is still cheaper than electricity. For example, in the UK, from October the cost of electricity will be 52p/kWh and the cost of gas will be 15p/kWh.
Efficient Conservatory Heaters Key Takeaways:
Electric heaters should only be used for a limited amount of time and to heat a small space.
Overall, the cheapest electric heater to run are infrared heaters, costing around 26p an hour on average.
Electric heaters with a timer function can save you a lot of money by limiting your usage.
Ignore what they say about heating rooms of a certain size as this is dependant on many factors such as the size of the room and the level of insulation.
These can easily be found on sites like Amazon, like this one.
---
Our top pick: Most economical electric heater
The Princess Smart Panel Heater is a great option for those looking for a reliable and electric heater with low energy consumption.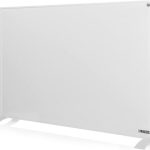 The heater also features a timer function, which is incredibly useful in case you ever forget to turn it off.
This may seem like a simple feature, but during our research we found an incredible amount of electric heaters that feature no timer options at all.
Another great feature is the adjustable thermostat that allows you to adjust it to your comfort and to an appropriate level based on the time of year. Again, many electric heater models have limited functionality in this regard.
In terms of limitations, this heater does have a lack of colour options, which may be disappointing for those that like to colour match and the thermostat placement is somewhat awkward.
Check price on Amazon
---
To make the most of your conservatory in the winter, invest in a high-quality, but most crucially, energy-efficient electric heater, and you'll be able to use it pretty much all season.
If you have plants in your conservatory, you'll need a heater configured on frost stat at the minimum to keep them alive during the winter and keep it from growing too cold.
Heating the conservatory in the winter
Conservatories are lovely additions to our homes, whether you're looking for extra space for entertaining, a tranquil retreat from the yard, or simply a pleasant living area, it's good to have this space warm all year.
These additions to our houses are probably chilly for 9 months of the year, and we want to either take a tiny bite out of the air on a cool spring morning or have it fully heated in the winter so we don't lose the room.
The following list will help you make the most of your conservatory throughout the year by keeping it warm and comfy throughout winter:
If you can afford it, upgrade your windows.
Draughts should be kept to a minimum.
Make a mess with draperies, shutters, and large blankets.
Perhaps some new flooring should be installed.
Insulate the top of the conservatory.
Use electric heating.
Cheapest way to heat a conservatory
If you want to heat your entire conservatory in a cost-effective manner, a cheap electric panel heater might be the way to go.
Installing an electric radiator inside a conservatory is one of the greatest ways to keep it warm in the winter.
The advantage of heating a conservatory with an electric radiator is that you have it when you need it, and you don't have to squander money on higher heating expenses by adding it to the usual central heating loop.
Electric panel heaters have come a long way in recent years, and they are now significantly less expensive to operate than most central heating systems.
A compact, portable panel heater may be wheeled in and out of your conservatory as needed and placed anywhere you want to improve the circulation of warm air throughout your conservatory.
If you want to learn about the best way to heat your conservatory, you may want to check out our guide on which electric heater is cheapest to run, you may be surprised to find out that it is not a halogen heater.
Best heater for a conservatory
When people wish to put a gas radiator in their conservatory, they make one of the most typical blunders.
Because of the limitations, this process takes time, so it may not be the most useful approach to heat this room.
The electric option is one of the most convenient ways to warm a conservatory. Electric heating has the advantage of being able to regulate your conservatory heater separately from the rest of your home.
Electric conservatory heaters and radiators are the best standalone heating solution for your conservatory because they can be easily installed on low-level walls and very low dwarf walls, enabling the most cost-effective heating with an independent thermostat to precisely control the ambient temperature of your room.
Heater size for a conservatory
The initial consideration should be the size of the heater you'll need to warm your room.
Because a small conservatory floor surface requires less heat to be warm, you may get away with a less powerful alternative, but larger spaces demand a more powerful option.

To keep that floor space at a reasonable temperature of roughly 22 degrees, you'll need a panel heater with at least 1500 Watts.
Larger units have greater power and are better suited for larger settings. They are also bulkier and take up more space.
Smaller ones, albeit not as powerful, can be hidden in plain sight. They're a lot easier to move around if you're going to be changing positions frequently.
Best positions for a conservatory heater
Heaters should be positioned beneath windows in a conservatory. If you don't have enough space for panel warmers, wall strip panel heaters, which come in lower and longer versions, are an option.
You can avoid chilly draughts along the floor by putting heaters under the windows, which heat up cold air dropping from the window glass.
It is even better if you can get your hands on a portable heater that can be easily moved around the conservatory.
Best electric heaters for a conservatory
Here is a list of some of the most economical conservatory electric heaters.
ADAX NEO Modern Electric Panel Heater
The ADAX NEO Modern Electric Panel Heater features a beautiful finish and a trendy modern design that blends in with your decor while keeping you warm.
The Neo fits neatly into practically any conservatory space in need of effective warmth, with up to 2000W of power packed into a frame that is only 9cm wide.
There are seven slim variants available, the largest of which is designed for spaces up to 25m2.
Dimplex Cadiz Eco
This is perfect for conservatories with a certain seating arrangement because you are not wasting energy heating the wall.
It has a TPT (twin panel technology) heating system that lets you customize the directionality of your warm output.
You can use both panels together for omnidirectional heat or turn one or the other off depending on the room's design.
Wärme Designer Electric Wall Heater
Are you looking for a piece that creates a striking aesthetic statement while also providing excellent heating for your home?
The Designer Electric Wall Heater from Wärme adds a contemporary touch to your conservatory. It provides 2000W of practically instantaneous heating–more than enough power to warm areas up to 22m2.
Wärme is the way to go if you're looking for a high-efficiency conservatory heater with a modern "wow" factor.
Best heater for a conservatory conclusion
Because your conservatory is different from the rest of your home, selecting the ideal conservatory heater requires extra thought.
The buyer's guide above should help you develop the critical thinking skills you'll need to confidently shop for radiators.