Are you on the hunt for an energy efficient kettle that will help to limit your energy bill and help you save money?
The fact is that the humble kitchen kettle is the one of the most used electrical appliances in the average UK home.
Therefore it makes sense that many people want to find a kettle that's efficient and will help limit energy use as much as possible.
So which kettles are the best in terms of energy saving ability?
Let's explore…
Energy Saving Kettles (Eco Kettles) UK Key Takeaways:
Opt for an Eco kettle if you want to save on boiling water, like this one on Amazon.
An eco kettle will switch off straight away after boiling and will also have a minimum fill level.
This means you can limit the volume of water required and only boil the amount of water you need.
This can save you as much as 20% in energy compared to a regular kettle.
---
Our top pick: most energy saving kettle (if using one cup method*)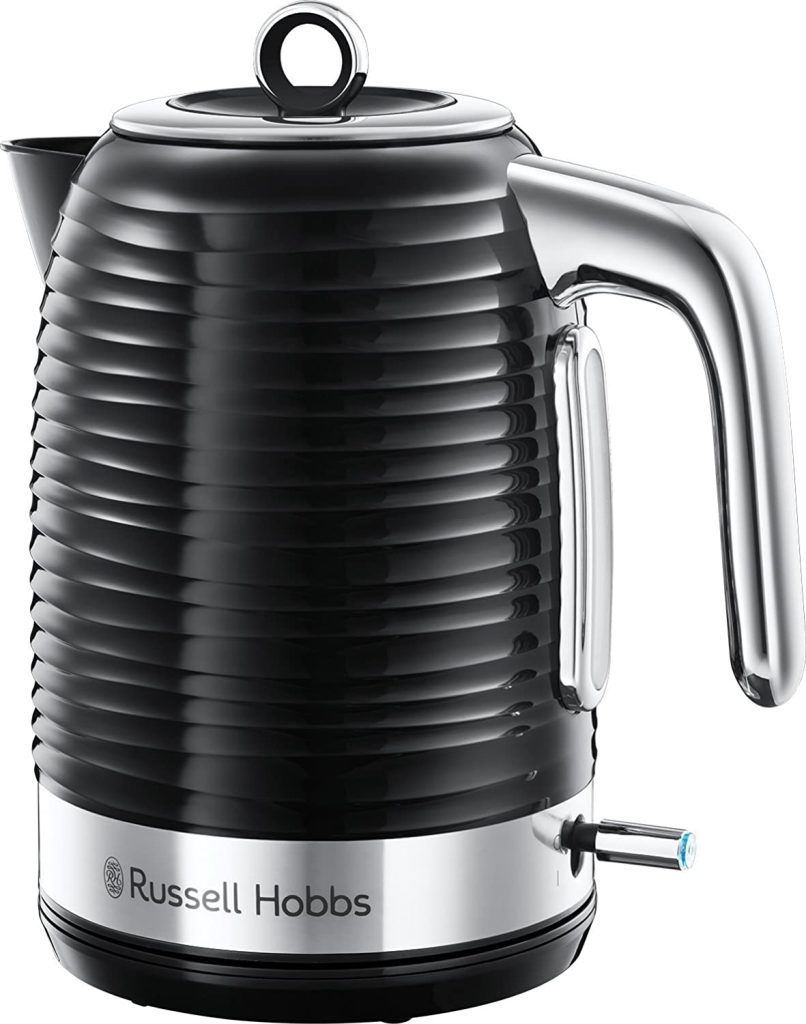 As the name states the Russel Hobbs fast boil kettle allows you to easily and quickly and most importantly – only boil the amount of water you need – a savvy tactic to avoid energy waste.
In fact, this kettle can potentially allow you to save 66% in energy compared to a conventional kettle.
66% energy saving occurs based on boiling 1 cup (235ml) vs 1 litre, so it does require you to employ this habit.
Check price on Amazon
---
How much energy do kettles use?
The amount of energy your kettle uses is determined by a variety of factors including the energy efficiency rating of the model, and how many litres of water it can hold.
The average kitchen kettle is around 3,000 watts and uses around 0.11kWh to heat 1 litre of water, which is equal to 26p for 4 cups of water.
Why do kettles use so much energy?
While it's true that electric kettles are responsible for a large proportion of energy use in the average UK home, this is mainly due to how people use their kettles.
In fact, many people over fill their kettles and boil much more water than they actually require.
The trick is to only boil the volume of water you actually need, so how do you ensure you do this?
Thankfully, there are kettles designed to help you easily only boil the water volume you need at any one time.
Which kettles use the least amount of energy?
If you are looking to reduce the amount of energy your kettle uses, it's worth considering an eco-friendly kettle.
Which kettles does this include?
Eco friendly kettles, also simply referred to as an ECO kettle will only boil the amount of water required and will typically use 20% less energy than a regular electric kettle.
Eco kettles will usually be marketed as such, but in order to double check, ensure that the kettle includes the following features:
A low minimum fill level
A kettle that switches off immediately after boiling
These two features mean that the ECO kettle will not end up boiling more water than you actually need.
For illustration, avoiding overfilling could save you as much as £13 a year on your electricity bill, and a whopping 8kg in CO2e every year.
How do Energy Efficiency Ratings Work?
The Energy label or energy label rating system was launched in the UK over 20 years ago.
The system is designed to provide an indication of how much energy the appliance or in this case of a kettle how much it will use during operation.
The rating system has a scale from A to G, with A being the most efficient and G the least efficient.
The general rule is that the appliances are categorised by their size.
In short, this means that two different sized appliances with the same energy rating may actually have different running costs.
Do fast kettles use more energy?
No, this is not true and is simply a myth.
In fact, an eco-friendly kettle that can boil water faster will typically use less energy/electricity than a kettle that takes longer too boiler the water.
With that in mind, if you are choosing between kettles that heat at different speeds and your main goal is to use less energy make sure to choose the kettle that boils water faster.
How can you save money when using your kettle?
If you want to save as much money as possible when boiling water, follow these main rules:
Do not boil your water via the hob – instead of your kettle, this typically costs more as it takes longer to reach boiling point
Boil only the water you require – only boil the volume of water you need, overfilling the kettle is one of the major causes of high energy consumption
Choose a kettle with a low minimum fill – use a kettle with a minimum fill level that will help you easily see and limit the volume of water you need to boil